In this episode of Marketing Personalities, Brit Kolo speaks with Maggie Patterson, the Founder of Scoop Studios and Small Business Boss. Listen in to hear about Maggie's Marketing Personality Type – INTJ – and how she's applied it to her marketing strategy, her business strategy, and how she relates to her clients and team members.
Listen to this Marketing Personalities Episode:
Podcast: Play in new window | Download
Subscribe: Apple Podcasts | Spotify | Stitcher | RSS
Listen on iTunes
Listen on Spotify
Listen on Stitcher
Watch the Marketing Personalities Podcast on YouTube:
Links Mentioned:
Small Business Boss Website
The Small Business Boss Podcast on iTunes
Scoop Studios Content Marketing Agency   
The INTJ Marketing Personality Type


The Most Rebellious Type INTJ Episode Summary:
In this episode, Brit is interviewing Maggie Patterson, Founder of Scoop Studios and Small Business Boss.
Maggie is an INTJ, so the conversation centers around how Maggie is marketing her businesses, working with clients, and communicating with her team as an INTJ.
Maggie's Entrepreneurial Life Right Now
Maggie runs two separate companies right now.
First, Scoop Studios is her content marketing agency that works with medium-sized tech companies to boost their content marketing strategy and get results.
Second, Maggie hosts the Small Business Boss podcast and runs a year-long mastermind for service-based small business owners, helping to mentor and guide them through business ownership as they serve clients.

Maggie is an INTJ Marketing Personality Type
Some key things to know about an INTJ Marketing Personality Type:
They're logic-driven.
They have to have a plan or strategy to move forward into any project.
They love and are highly skilled at breaking down the big picture into attainable steps.
They're the most rebellious of types, always questioning things. Through questioning, they often finding better ways to do things.
As it relates to being an INTJ, Brit asks Maggie…
How have you found you relate to others? And how do you navigate that within your company's team?
How do you make your business decisions? What does your INTJ decision-making process look like?
How do you market your business in an INTJ-type way?
The Rebellious INTJ
Maggie shared with Brit that sometimes she'll pass up a good opportunity simply because her natural tendency is to rebel against things at first.
Brit was curious about that so she dug in deeper by asking what was behind that. Why rebel against something that even the data supports as a good idea?
Maggie shared that while data is helpful to her in making decisions, she often needs to feel like the idea was hers originally and the plan was created by her to really commit to it. So even a good idea suggested to her isn't something she'll get behind until she's put her own spin on it and made it her own.
If you're an INTJ, does that feel true for you too?
Connect with Maggie
Listen to Maggie's Small Business Boss Podcast here on iTunes
Visit Maggie's Small Business Boss Website to learn more about her programs for service-based business owners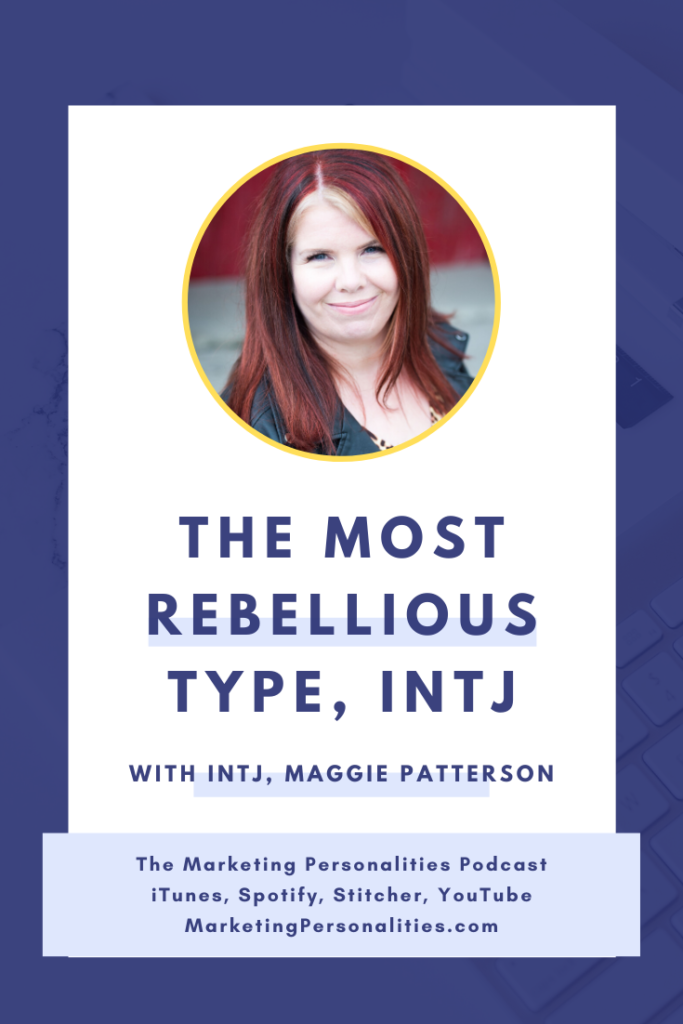 Podcast: Play in new window | Download
Subscribe: Apple Podcasts | Spotify | Stitcher | RSS