In this episode of Marketing Personalities, Brit Kolo interviews Brittany Berger who is the Founder of WorkBrighter.co and a Minimalist Content Marketing Consultant at BrittanyBerger.com. In this discussion, Brit and Brittany discuss how Introverts can remix their content to work for them long after the day it's originally published.
Listen to this Marketing Personalities Episode:
Podcast: Play in new window | Download
Subscribe: Apple Podcasts | Spotify | Stitcher | RSS
Listen on iTunes
Listen on Spotify
Listen on Stitcher
Links Mentioned:
Brittany's Website, WorkBrighter.co
Work Brighter on Instagram
Find your Marketing Personality Type here!
*Affiliate links are marked with an asterisk. Marketing Personalities will receive an affiliate commission should you purchase something through the affiliate link shared. TIA!
The Introverted PR Strategy Episode Summary
Welcome to this episode of the Marketing Personalities Podcast. I'm Brit Kolo and I'm here today with Brittany Berger, who is the founder of WorkBrighter.co and a Minimalist Content Marketing Consultant at BrittanyBerger.com.
About Brittany Berger
Brittany runs two companies: Work Brighter and her Content Marketing Consultancy under her own name.
Work Brighter is a membership for all kinds of professionals, seeking higher productivity, while still creating their own rules for work and self-care.
And at BrittanyBerger.com, Brittany shows entrepreneurs and Content Marketers how to create and remix content so it makes the biggest possible impact AND so you, the content creator, aren't constantly on the content hamster wheel!
How Brittany has built Work Brighter for herself, as an Introvert
While Work Brighter is a membership of over 2,500 professionals, Brittany has built it to be sustainable for herself, as an Introvert. She's built the community on Slack, instead of Facebook, so she and her members aren't needing to log into Facebook and get distracted by the never-ending and often-triggering Facebook Newsfeed.
Takeaway: You not only can build a marketing strategy for yourself as an Introvert, but also a smart business model.

The Introverted PR Strategy, from Brittany Berger
The Introverted PR Strategy is one where you focus less on creating new content and more on remixing and remastering the content you already have.
While I see most Introverts creating written content, like blog posts and articles, this minimalist content marketing strategy can be applied to audio content like podcasts and your video content as well.
If you've been creating content consistently for a while…
It's time to remix your content! You can stop creating new content and start looking at what's already there and fixing it, updating it, curating it in different ways so your audience can glean even more wisdom and intel from it.
If you haven't yet created a lot of new content yet…
You can go into creating new content with the Content Remix concept in your mind so you don't feel so pressured to constantly be coming up with new things. Plus, you can set up systems that share your new content for days, weeks, months, and years to come!
How to Get Started on Your Introverted PR Strategy
Curate your "Greatest Hits Album" of your core pieces of content any audience member must consume to be well-educated and indoctrinated into your company's way of doing things.
Once you have your "Greatest Hits Album" curated, you can use those pieces of content to pitch first to media outlets.
Brittany's Content Remix Planner will help you do exactly that and plan for future content to be remixed well.
Are webinars good for Introverts to use?
Actually, YES! Because you don't need to have your camera on. A webinar can be super effective when you're mostly sharing slides. You can also use the power of recorded content, like podcasts and recorded video, to take the pressure off of showing up LIVE.
How to connect with Brittany Berger
Brittany's Website, WorkBrighter.co
Work Brighter on Instagram
Get the Content Remix Planner*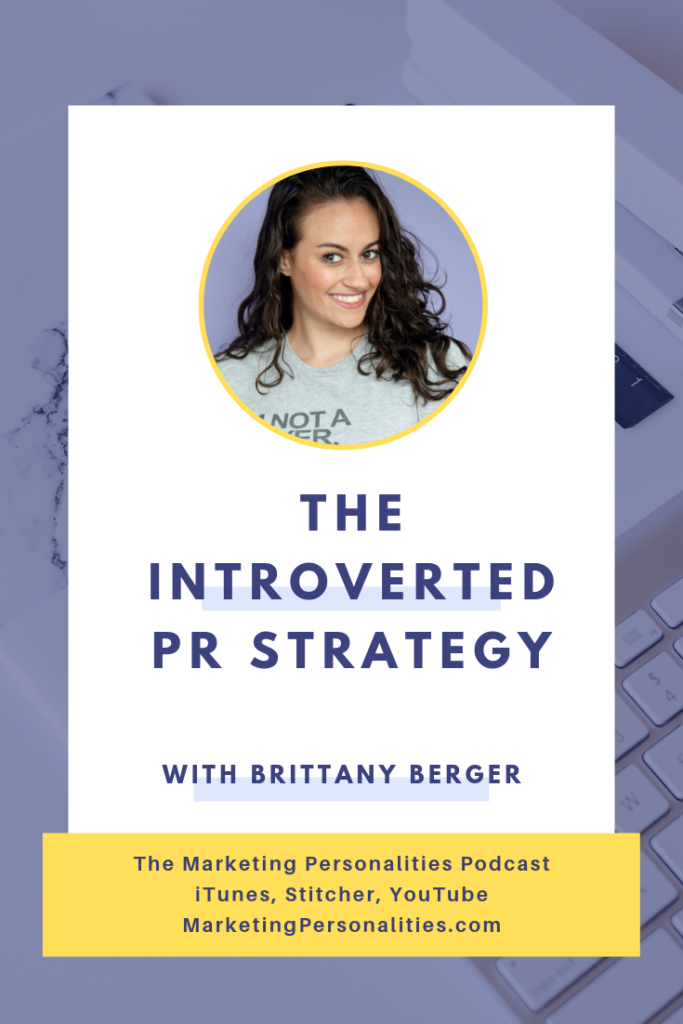 Podcast: Play in new window | Download
Subscribe: Apple Podcasts | Spotify | Stitcher | RSS