In this episode of Marketing Personalities, Brit Kolo interviews Cara Rice, who is a business and mindset coach for Introverted Coaches. In this discussion, Brit and Cara discuss what it's like to be an Introverted Coach, why this is the niche Cara's chosen for her business, and what Introverted Coaches can know about doing business and marketing.
Listen to this Marketing Personalities Episode:
Podcast: Play in new window | Download
Subscribe: Apple Podcasts | Spotify | Stitcher | RSS
Listen on iTunes
Listen on Spotify
Listen on Stitcher
Links Mentioned
Cara's Website
Cara on Instagram
Visible & Fully Booked Facebook Group
Find your Marketing Personality Type here!
The Introverted Coach Episode Summary
Welcome to another episode of the Marketing Personalities Podcast! I'm Brit Kolo and I'm here today with Cara Rice, who is a business and mindset coach for Introverted Coaches.
About Cara Rice
Cara began her business as a health coach and quickly realized she'd need to build her own personal brand, which was scary to her, as an Introvert.
In her first try at business, she tried to hide behind fancy names and branding, without putting her true self out there. As you'll hear in the episode, this first try didn't work. Cara went back to her 9-to-5 job because her health coaching business just wasn't getting off the ground.
She then tried again. This time, she committed to building her personal brand and telling her own story and that's when everything changed.
She put her own name behind the brand and told her true, raw, vulnerable story. She stopped hiding! She was her real self and it totally changed the game.
Her health coaching business took off this time and soon, people were asking her to help them in their own businesses.
She began coaching other health coaches and quickly began attracting all kinds of coaches – not just in the health industry. Soon after that, she realized that while her clients weren't all health coaches, most of them were Introverts.
She now helps Introverted Coaches get traction in their businesses by telling their own story so their potential clients can relate to them and want to learn more from them.
As an Introvert, how do I know it's time to share your story?
Cara recognizes that it can feel scary and super vulnerable to share your story with your audience. So she recommends waiting to share your own story once you've made it to GRATITUDE. When you have gratitude for the experiences you've gone through, even though they were difficult, you're ready to share. Within the sharing of the tough stuff, but then followed by the gratitude, you'll inspire the people you can help and they'll be able to learn from you.
Once we're ready to share our story, how do we actually do it?
Cara recommends sitting down and piecing together all the important points within your own experience. Through this exercise, you'll begin to see the A-to-B path you were on. This A-to-B path can now be the journey you guide your clients on.

What if I'm still scared to share my story?
Cara reminds us that it's really not about your story. It's not about you! While people listen to your story, they're relating it to their own story. When they can relate, they become invested and want to learn from you.
What if I'm wrongfully judged by pieces of my story?
Again, it's not about you. What other people think about you is none of your business. You can't control where other people are in their own minds when they come to you. What you CAN control is what you share, so the people ready for it can relate and be helped by you.
You have to share what's possible for them. By not sharing, you're doing a disservice to all the people you can help.
When it comes to structuring our days and work, what might be best for the Introverted Coach?
As an Introvert, you may easily get "burnt out" by coaching a lot. To combat this, Cara recommends this:
Super helpful to stoke her creativity and keep that fire burning consistently.
She does this by batching her days, so she only coaches Monday through Wednesday, leaving Thursday and Friday as creative days. She also doesn't take coaching calls until 11am so her mornings are free to fill up her own tank before she starts pouring into others.
Cara's 2 non-negotiables for marketing her own company
Cara shows up DAILY with whatever flows that day.
The content of what she shares depends on the inspiration flowing for her that day and that feels right for her, as a P. She asks, "What is the message I'm supposed to share today?" And she does have a bank of content she can share if she doesn't feel exceptionally inspired.
Care let's people know how they can work with her DAILY.
This can so often be missed by those who are hesitant to "put themselves out there," but remember – by not sharing, you're doing a disservice to the people who can be helped by you!
How to connect with Cara
Cara's Website
Cara on Instagram
Visible & Fully Booked Facebook Group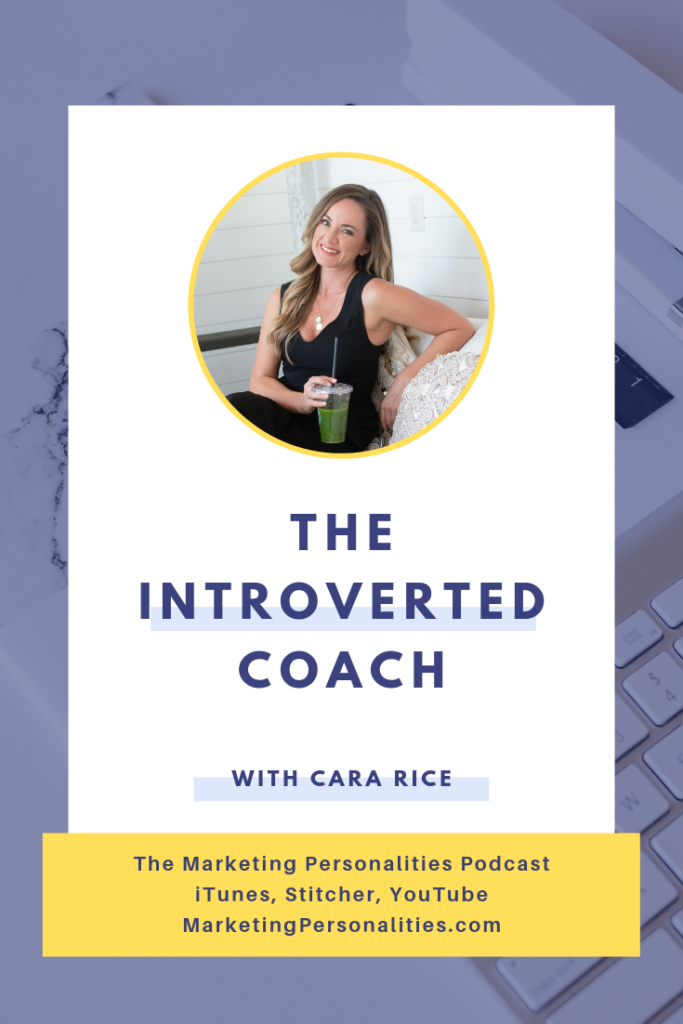 Podcast: Play in new window | Download
Subscribe: Apple Podcasts | Spotify | Stitcher | RSS