In this episode of Marketing Personalities, Brit Kolo interviews Holly Gillen, who is your go-to-video gal of Holly G Studios. In this discussion, Brit and Holly discuss what it's like to be an ENTJ personality type and how Holly uses her ENTJ Marketing Personality Type in her business and marketing strategy.
Listen to this Marketing Personalities Podcast Episode:
Podcast: Play in new window | Download
Subscribe: Apple Podcasts | Spotify | Stitcher | RSS
Listen on iTunes
Listen on Stitcher
Listen on YouTube:
Links Mentioned:
Holly's Website – Holly G Studios
Holly on Instagram
Podcast Episode: A Review of the Analyst Tribe with Andrea Layne
Podcast Episode: A Closer Look at the Analyst Tribe
Find your Marketing Personality Type here!
The ENTJ Marketing Personality Type Episode Summary:
Welcome to another episode of the Marketing Personalities Podcast! I'm Brit Kolo and I'm here today with Holly Gillen, who is your go-to-video gal of Holly G Studios and an ENTJ – the Commander – personality type.
Holly is your Go-To Video Gal! She's THE person to talk to about creating and publishing video for your business.
And while so many of us think of video as something you do to market your business, open up your mind a bit and remember that video be included in your onboarding process, your content delivery to paying customers, and your "off-boarding" process.
Of course, video isn't comfortable for everyone, but it IS for Holly, as an ENTJ, and she's uniquely positioned to show others how to incorporate it into their business models and marketing strategies if it's something they would feel good about doing.

Now, Holly is an ENTJ, so she's part of the Analyst tribe, which means…
She's rationale-driven.
Her motto might just be "When you fail to plan, you plan to fail!"
She has to start with strategy.
She loooves the deduction process.
And as a dominant ENTJ – the Commander personality type…
Holly is a "bold, imaginative and strong-willed leader, always finding a way or making one."
I see Holly's ENTJ super powers shining through in many things she does:
Her videos are always super actionable and to-the-point. No fluff!
She maps every single step out for her customers so when they get into her guided group program, there's never a question what the next step is to complete.
She owns her power and goes for it!
And when it comes to marketing, Holly leverages her ENTJ Marketing Personality Type by positioning herself as THE expert in business cinema and delivering clear how-tos to her audience.
To learn more about the ENTJ Marketing Personality Type, click here.
And to watch Holly in action on her YouTube channel, click here!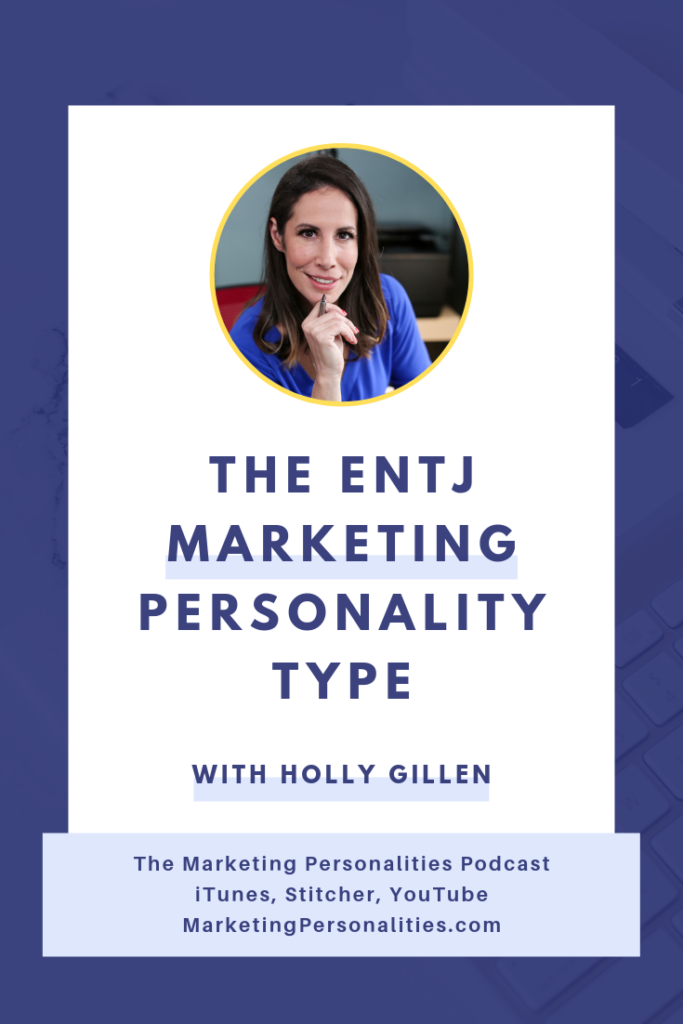 Podcast: Play in new window | Download
Subscribe: Apple Podcasts | Spotify | Stitcher | RSS