As entrepreneurs, you and I, we're Idea People. Your entire business started as just an idea. And then you took some action. And POOF. Business, realized.
Okay, there wasn't an actual POOF and it didn't happen overnight. (Nothing ever does.) But it WAS an idea and YOU made it more than that.
And then as we've all continued being entrepreneurs, we've had new ideas. Products to create and launch, new markets to enter, services to offer, and yes, marketing campaigns to try.
Now, I have a question.
As you have ideas and put some of them into play, do you know WHY some of them succeed and others fizzle?
Have you kept track of all the experiments you've done and all the things you tried?
My (really good) guess is that you just answered that question with, "Eh, not really."
Sure, you were there, so you sort of remember what happened and whether or not the idea was a success.
But the details are fuzzy. They're mostly stories in your head now. Stories like…
"Yeah, we tried running Google ads for a couple of months last year. It didn't really work. I think the cost-per-click ended up being too high. So now we're onto Facebook ads."
"We tried offering an upsell to our main product at checkout, but it didn't really seem like many people were purchasing it. We thought maybe it made the checkout process more confusing so we scratched it. Now there's no upsell offered."
"So we've tried getting more people to engage with our organic Facebook posts, but most of the time we get crickets. A couple of posts seemed to have gotten some people's attention, but they were few and far between. Now we just rely on Instagram."
I could go on and on and on. You probably could too.
And let me be clear—if this is how you rehash your marketing campaigns and experiments, you're not doing anything wrong. By my estimation, you are in the vast majority of business owners who talk about their marketing like this. With anecdotes. Sweeping generalities. Very little actual data.
And truly, TRULY! This is okay. Many businesses go so far doing things like this. Getting ideas, trying things, getting a feel for how it went, not recording anything, and moving on to the next big idea.
It's okay. I would argue, though, it's not ideal.
And at some point, this way of doing things will hold you back. Not knowing what exactly worked and didn't work in your marketing campaigns and experiments—this will hold your company back. No matter your Marketing Personality Type®.
Because eventually, your team members will want to better understand what's worked and what hasn't so they can avoid making your mistakes themselves. And eventually, markets will shift and you'll want to try that one idea again, but because you're not sure how it all worked out the last time, what worked, what didn't, you don't know how to move forward confidently this time.
So, I propose it's time to debrief.
It's time to implement a simple (I'm talking just three steps) debrief process that you (and your team) complete after every marketing campaign.
This process can be used for any idea you try out in your business, really. But since we specialize in marketing here, we're going to focus on how to easily debrief a marketing campaign.
Why debrief a marketing campaign?
Debriefing a marketing campaign gives you a record of what worked, what didn't, and why. These records will come in handy for future team members and future projects. Trust me.
I've gone back to my own debriefs that I myself wrote and was amazed at how little I remembered from the campaign I'd tried. Without that debrief document—just a one-pager, super simple—I likely would've made the same mistakes again simply because I didn't remember the nuances of what I'd already figured out.
And then once you get a team involved, debriefs are even more helpful.
Debrief documents tell the story of a past marketing campaign without you or another team member having to explain it all to the new team member. #timesaver
You will be absolutely amazed at how your team members answer debrief questions, compared to how you answer them. You'll see the project from their eyes! When you can do this, you can bring more empathy to your role and help them avoid mistakes later on.
When projects get passed from one team member to another, the new member can avoid the mistakes of others gone before them.
What projects need to be debriefed?
Ultimately, you're going to be the best judge of this for your own business and team.
My best advice is to debrief any NEW marketing campaigns once its implementation is complete. I also suggest debriefing RECURRING marketing campaigns every quarter.
Marketing campaigns to debrief:
Product launches
Service launches
New marketing strategies

Example: You try marketing on TikTok for 30 days to see if it's worth your time. Debrief your efforts on Day 30.

Recurring marketing strategies

Example: You consistently publish a new podcast episode every week. Debrief your efforts at the end of every quarter.
If you're anything like me, you've got a new marketing campaign to test at least every month. On top of that, you have your recurring marketing activities running and quarters go by quickly.
That's why I've made my debrief process super simple. Just three questions.
How to Easily Debrief a Marketing Campaign with Just 3 Questions:
Every time you complete a marketing campaign or come to the end of a quarter, answer these three questions in writing. I have a folder titled "Debriefs" in my business's Google Drive to file these away in.
Yes, I've created a basic template here for you to download. Download, print it out, and write all over it. Snap a picture of it and save it digitally in your files. OR fill it out write on your screen—it's fillable.
How did our RESULTS compare to our original GOAL for this marketing campaign?
This question holds so much. It requires you to know your results, for one thing. And it requires you to know what your original goal was, for another. Two things that shouldn't be that difficult, but I KNOW! They're not always as cut and dry as you'd expect them to be.
Still, they hold so much information within them and if you're willing to do the work of setting the actual goal and then tracking the data toward that goal, you'll know SO MUCH MORE than had you not.
Let me be clear—you don't have to track ALL the data. You don't have to create some fancy shmancy data dashboard that looks nice but you're still not sure if it's accurate or not.
Drop the complicated spreadsheets unless you get off on complicated spreadsheets. Looking at you, Thinking Types. In which case, have at it.
For the rest of you, choose one metric that matters most. Track that one number. Write down what your goal number was and what your end result was.
There. Done.

What DID and DID NOT go well?
Two columns on your paper. What went well on the left. What didn't go well on the right. Get as detailed as you want to get. The details don't matter as much as the honesty. You MUST be honest here. If you're not, you thwart the whole purpose of this debrief.

What will I/we do DIFFERENTLY next time?
This is where the magic really happens. If you were to do this project all over again, what would you do differently? This is what you've learned! This is how you've grown! Write. That. Down. You'll feel smarter just by having noticed and noted these takeaways. And then, because you wrote them down, you'll remember it more readily later and avoid repeating a mistake.
Try doing this solo AND with your team. Your team's answers may surprise you.
—
I'm all about keeping things simple. That's why the debrief process is just three simple questions long.
I also know that each of us, based on our personality types, naturally cares about specific bits of information more than others.
That's why I've offered a few extra questions to add to your debrief process, based on your personality type. These questions are designed to speak YOUR UNIQUE LANGUAGE. They ask about things you naturally care about and help you process those bits of information.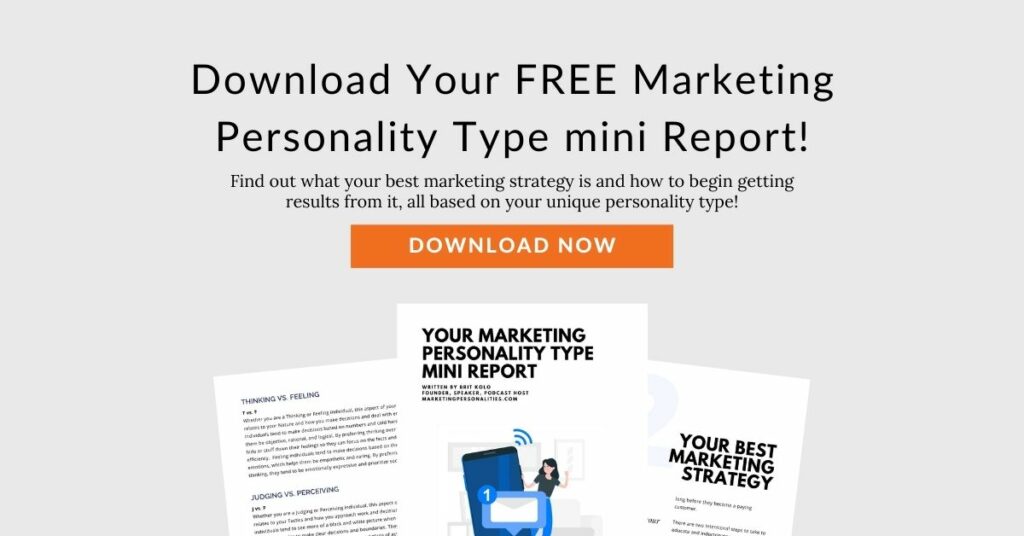 How to Debrief a Marketing Campaign Based on Your Personality Type
Additional Debrief Questions for the Analyst Tribe
HOW questions matter most to Analysts. Bonus points for quantification with numbers.
If I were to try this type of marketing campaign again, what would my goal be?
How can I track the data of my next project more efficiently?
Additional Debrief Questions for the Diplomat Tribe
WHY questions matter most to Diplomats.
Why did I enjoy (or not enjoy) being involved in this marketing campaign?
Why did this marketing campaign matter to the business?
*PRO TIP for Diplomat Tribe Members: You can't ask "WHY?" enough. So keep asking it, drilling down into why things turned out the way they did and why you're moving forward with these new plans. Get to the heart of the matter.
Additional Debrief Questions for the Sentinel Tribe
WHO questions matter most to Sentinels.
Who helped me most with this marketing campaign?
Who do I need help from next time?
Additional Debrief Questions for the Explorer Tribe
WHAT questions matter most to Explorers.
What is great about having tried this marketing campaign?
What do I need most in order to make my next marketing campaign a success?