In this episode of Marketing Personalities, Brit Kolo speaks with Sarah Groskreutz who is an Organizational Consultant and Coach. Brit and Sarah discuss what it's like for Sarah to be an ISFP Marketing Personality Type and how her marketing strategy has shifted since doing a Strategy Check Session. 
Listen to this Marketing Personalities Episode:
Podcast: Play in new window | Download
Subscribe: Apple Podcasts | Spotify | Stitcher | RSS
Watch the Marketing Personalities Podcast on YouTube:
ISFP Marketing Case Study Episode Summary
Welcome back to another episode of the Marketing Personalities Podcast. I'm Brit Kolo and today I'm speaking with Sarah Groskreutz, who is an Organizational Consultant and Coach. 
Right now, Sarah is in her very first year of business. Her background includes over 20 years working within a Higher Ed organization, building teams and supporting and advising leaders within the organization. Now she's taking all that experience and applying it to her own consulting business, coaching and developing entrepreneurial leaders. 
Within the interview, you'll hear Sarah reflect that the first year of entrepreneurship has been difficult and at times, lonely. She feels pressure to make it work, but she knows she's on the right path, doing what she's good at and loves. 
Sarah's Strategy Check Session Experience
Now, Sarah and I got to work together in October 2019 in a Strategy Check Session. First, we uncovered that she's an ISFP Marketing Personality Type, which tells us a few key things:
She's part of the Explorer Tribe.
[Here's a Great episode with Kristy Runzer about the Explorer Tribe #93]
She's EXPERIENCE-driven.
She's often labeled "creative."
She must start with action, as opposed to starting with strategy or organization.
Her personality type is named the "Adventurer" so very rarely does Sarah back down from an idea or an opportunity to try something out.
Before finding her Marketing Personality Type, Sarah found herself inundated with marketing advice about building the perfect "sales funnel," writing complex email sequences, and making sure everything was hyper-automated. This felt way too structured to her, as an ISFP. 
But then, Sarah found her Marketing Personality Type and booked a Strategy Check Session. Together, we uncovered that Sarah's best marketing strategy would NOT involve hyper-automation, technical sales funnels, and long email sequences. Instead, Sarah's best marketing strategy involves an exceptionally organic method of offering a "Try-Before-You-Buy" opportunity to her potential clients. 
For Sarah, it's important to allow the potential client a taste of what it's like to work with her as soon as humanly possible. Sarah reflected on this in the interview, saying she "always knew" if she could just get the client on a call, get them talking, give them some help right then and there, they'd be hooked and she'd be able to easily, effortlessly sign them on as a client. 
Her inner knowing was spot on! This is exactly how people in the Explorer Tribe operate, especially ISFPs. That's why the Try-Before-You-Buy offer is so powerful when done right. 
So for Sarah, we developed a marketing strategy that aims to get a prospect on a free coaching call as soon as possible within the customer journey. This feels great for Sarah. She genuinely just wants to interact with people and do her best to help them in any way she can. This energy will come out in her free sessions and will no doubt convert prospects to clients in a feel-good way. 
Now you might wonder… aren't ALL coaches supposed to offer free coaching calls? Isn't that kind of par-for-the-course? Good question. It is common for coaches to get the advice of offering a free consult or free coaching call before asking a prospect to become a client. However, this advice doesn't feel good to a lot of personality types. And when it doesn't feel good, it doesn't work. So remember – we're not here to tell all coaches and consultants to offer free coaching sessions in order to earn a new client. I'm here to show you how an ISFP, specifically, has incorporated a free coaching session into her customer journey to make it feel best for her. If you're not an ISFP, this might not be the best route for you. 

Sarah's Strategy BEFORE Her Strategy Check Session
Strategy Check Session clients are asked to sketch their marketing strategy out before the session. That way, we're not starting from scratch and I know, as their Consultant, they've at taken a look at their Marketing Personality Type Full Report and gotten the process started for themselves. 
The picture above is a perfect example of how most clients can get a strategy mapped out ahead of time. It might not be perfect, and sure, there are some question marks involved. But it's a start. 
And then, in the Strategy Check Session, the client and I work out the details, adjust and tweak things, and improve the first draft into the client's best marketing strategy possible. 
Sarah's Strategy AFTER Her Strategy Check Session
No more question marks. A few more options of how to bring new people into the customer journey. And still, a heavy emphasis on moving a prospect to a free coaching call. Plus, we found that Sarah has, at the very minimum, a great ebook in her – probably a whole series of books. So she'll get to surprise and delight her prospects with a free, in-depth read later on in the customer journey. 
You'll also notice at the top of the graphic that within Sarah's Strategy Check Session, we identified what kind of content Sarah would be offering to her prospects at the different stages of the customer journey. Because of this, she walked away with a better understanding of how she could structure her content strategy moving forward in order to move a prospect to that important free coaching call and earn them as a paying client. 
Need your Strategy checked too?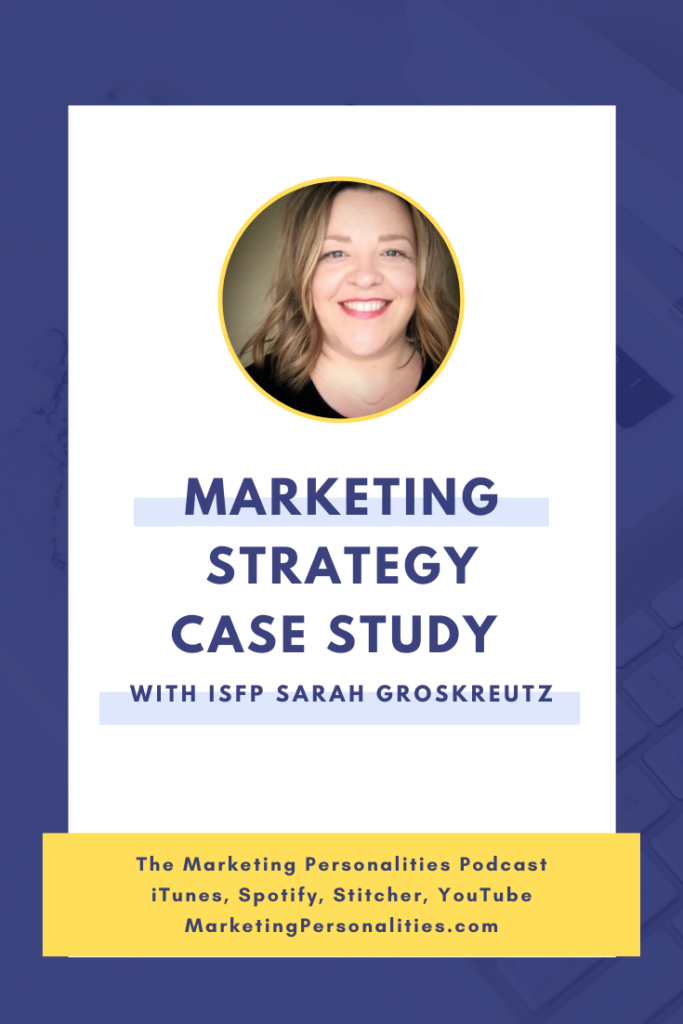 Podcast: Play in new window | Download
Subscribe: Apple Podcasts | Spotify | Stitcher | RSS