In this episode of Marketing Personalities, Brit Kolo shares with you how to plan for the New Year and what physical planner to use based on your personality type!
*This post contains affiliate links. Purchases made through links on this page may result in Marketing Personalities receiving cash-money. Woo! TIA for your support of this podcast and website.
Listen to this Marketing Personalities Episode:
Podcast: Play in new window | Download
Subscribe: Apple Podcasts | Spotify | Stitcher | RSS
Listen on iTunes
Listen on Spotify
Listen on Stitcher
Watch the Marketing Personalities Podcast on YouTube:
Links Mentioned:
The 2020 Planning Guide Based on Personality Types – http://marketingpersonalities.com/planning 
PRE-ORDER YOUR PRINTED Marketing Personality Type FULL REPORT FOR JUST $29 HERE – http://marketingpersonalities.com/preorder
How to Plan Your Year Episode Summary:
Welcome to another episode of the Marketing Personalities Podcast! I'm Brit Kolo and today I'm sharing with you how to plan for the New Year and what physical planner to use based on your personality type! 
I know, I know, this is going to be bananas! 
So here's how this is going to work –
I've broken everything down by TRIBE of personality types and I'll first be telling you how to approach planning for really anything, but specifically for the new year. And then I'll be recommending four different physical planners for each tribe. 
Once you get the recommendations for your Tribe, take a closer look at the four I recommend and choose the one you like best. If you're a physical planner type of person. 
Now of course, everything that I'm telling you here in this episode, including all the links to the Planners, is at marketingpersonalities.com/planning – that's linked in the show notes, can't miss it. So listen now and get excited. Then hop over to the webpage to shop for your next planner.
And if you're not a physical planner type of person – it's totally cool, I'm not either – stick around because at the end, I'll tell you what DIGITAL task management tools work best for different types. 
Okay, let's get this party started with the DIPLOMAT TRIBE.
Diplomat Tribe
Diplomats naturally ask, "WHY?" They're mission-driven, only being able to put their best energies into projects and plans they believe in deep down. To begin planning, a Diplomat must identify the mission they're on. With the mission in clear view, the big-picture goal and the steps to get there will reveal themselves. 
As you're planning, Diplomat, give yourself time and space to develop your mission in detail, visualize your big-picture goal, and imagine what steps you'll need to take to get there. Do not rush this.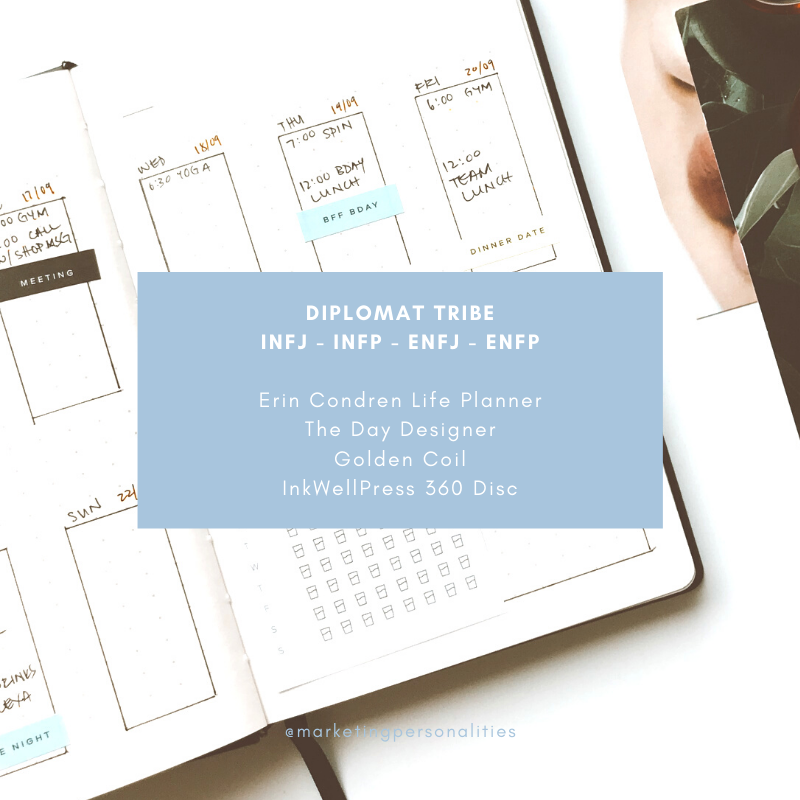 Analyst Tribe
Analysts naturally ask, "HOW?" while planning. They're born strategists, designed to take the big-picture goal and reverse engineer it into small, doable steps. As long as they have a clear vision of the big-picture goal, it won't take an Analyst long to develop the plan of action to get there. 
As you're planning, Analyst, remember to automate and integrate as much as possible so you're not left with way too much on your plate. 
Explorer Tribe
Explorers naturally ask, "WHAT?" when planning. They're most interested in what will be produced throughout the workday and less about how the work will be accomplished. To begin planning, Explorers can debrief what actions they took in the previous year, finding what worked to produce the results they wanted. Once they've debriefed, they can then envision what they'd next like to create, foster, produce. 
As you're planning, Explorer, remember your planning process doesn't really need to look like a process at all. Follow your creative instincts and definitely don't worry about it being perfect!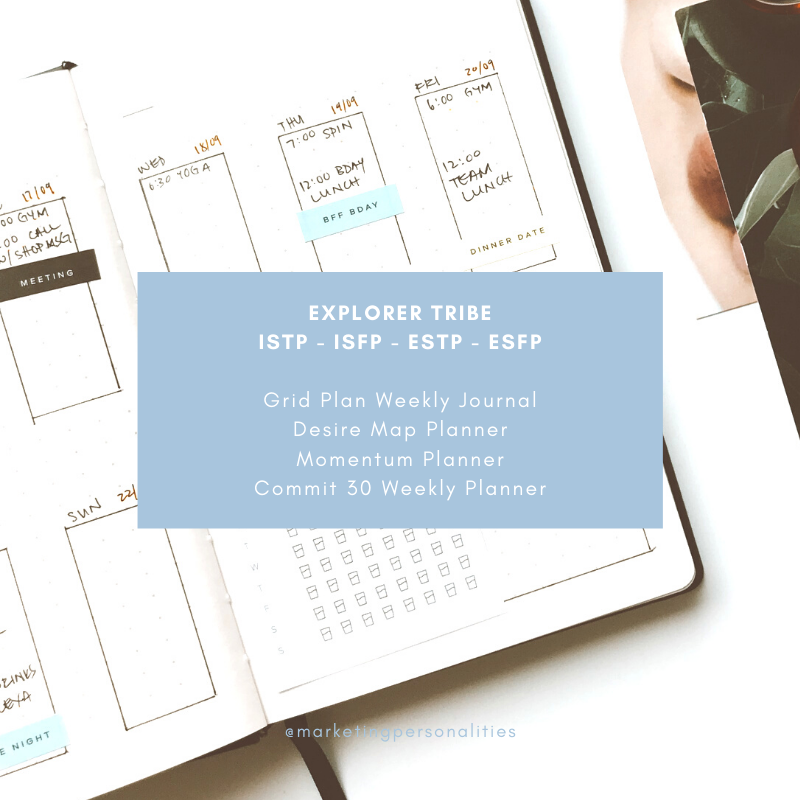 Sentinel Tribe
Sentinels naturally ask, "WHO?" when planning. They must know who is involved in the projects they're planning and how everyone will be affected. Sentinels must also be careful to "set the scene" for their annual planning sessions. If their space is in disarray, their planning efforts probably will be too. 
As you're planning, Sentinel, keep your most important people at the forefront of your mind. And don't forget to include yourself in that picture, too!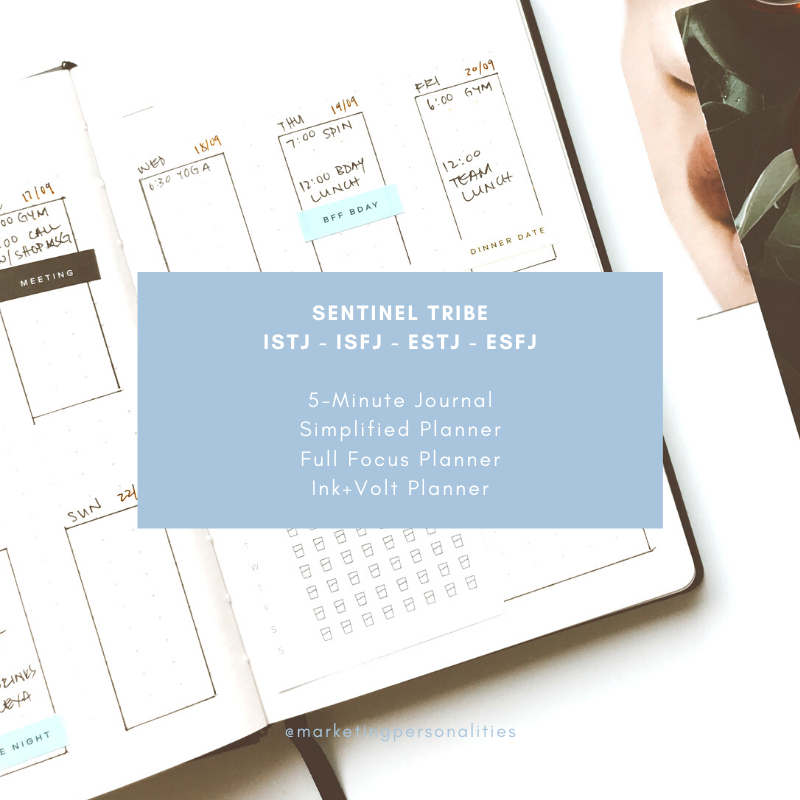 Now to finish things out, as promised, let's talk about what to use if you don't really like physical planners. 
Just like there are a lot of physical planners out there, there are a bunch of digital task management tools too. I'm not going to touch on them all, but I'll focus in on the big-hitters, Airtable*, Asana, and Trello. 
Airtable is suited best for the Analyst Tribe – INTJ, INTP, ENTJ, ENTP – and I'd also extend that recommendation to all Thinking Types.
Now for Asana, any other Asana lovers out there? Yup, me too. If it doesn't exist in Asana, it doesn't exist – that's my motto. 
So Asana's List view is best for Judging Types. This is how their brain works, pretty cut-and-dry, discerning, easily organizable. 
And Asana's Board view is best for Perceiving Types. This is a much more flexible way to manage projects and can help Perceiving Types visualize the plan and get stuff done. 
And with that said, Trello is an entirely separate platform that also utilizes the Board view. This is the perfect set up for Perceiving Types.
Phew! Was that helpful? I have a feeling it was. 
So now, go to marketingpersonalities.com/planning to get the links to those planners and as you're sitting down to plan of your next year, remember to continually tap back into your specific approach to planning based on your type. 
That's all for now. And hey – a quick note about next week's episode. It'll go live on Thursday, December 26th and I get that many of you won't really be working that day, but I think you'll at least want to listen to this episode. I'm going to be sharing with you my absolute best marketing advice for you going into this new year and new decade. The world of marketing IS shifting and I want you to be ready for it. Expect some new insights and a whole lot of inspiration because this is one of the most fired-up episodes I've ever recorded. That's coming at you Thursday, December 26th. Talk to you then!
Podcast: Play in new window | Download
Subscribe: Apple Podcasts | Spotify | Stitcher | RSS