I was emailing with a prospective client yesterday and a question about making a content plan came up that I think a ton of people are struggling with right now.
In short, "What the [fudge] should I talk about [on my podcast/blog/Instagram]?
Here was this client's actual situation:
"I read through my ENFP Marketing Personality Type® Full Report and it helped me decide to finally start a podcast. I've wanted to do one for so long, but wasn't sure if it'd be worth it. Now I know it will be because it aligns with my personality type.

But what do I talk about? How do I decide what to talk about each week on the podcast? In general, obviously the podcast will be about [this guy's topic of expertise, in this case, financial planning] but how do I know what to talk about on week 1 and then week 2 and then week 3?"
In marketing speak, he's asking, "How do I create a content plan for my podcast?"
In human speak, "WHAT THE FUDGE DO I TALK ABOUT THOUGH?!"
Since the guy was talking to me, I was able to answer based on his Marketing Personality Type®. Such a cool party trick, yes. Also, a super valuable bit of insight.
My answer to this question really does depend on who you are.
Because for some, following Google's trending search terms is going to be key for their content plan.
For others, they'll need to ask much more introspective questions like, "What's been gnawing at me lately, asking to be written about?"
Want to hear how I'd answer that question if YOU were asking? Keep reading.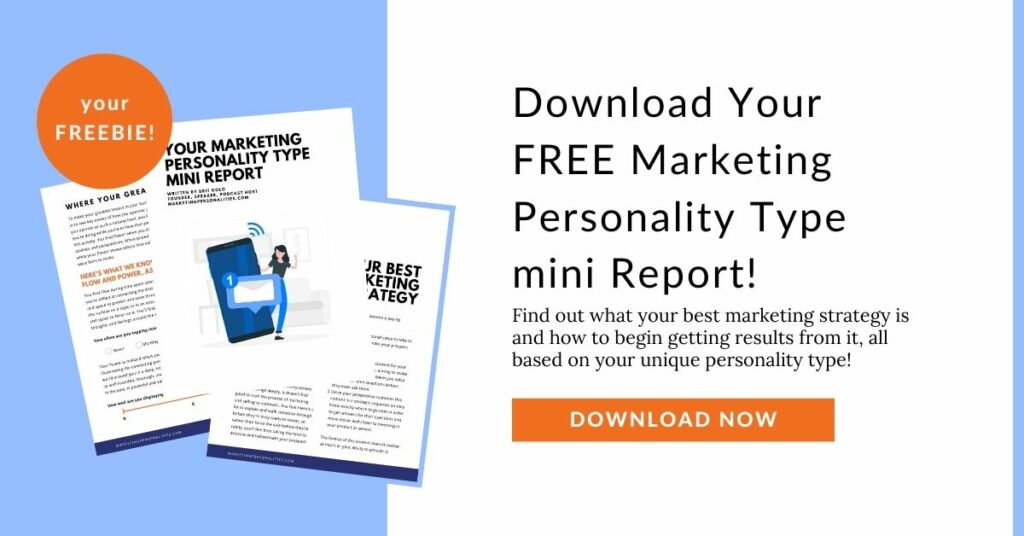 How to Make a Content Plan If You're In the Analyst Tribe
Begin with DATA. Ask questions like,
What does the data tell me about what content is needed on my site and on the internet?
What keywords are my audience members searching for?
Where is my site weak when it comes to search engine optimization?
What content pieces have worked best in the past and how can I replicate or build off that momentum?
What's trending?
How to Make a Content Plan If You're In the Diplomat Tribe
Begin with FEELINGS. Ask questions like,
What do I feel like creating this week or month?
What feels like it's coming through, wanting to be published?
What topic keeps coming up in my life that I can't ignore anymore?
What feels most important to me right now?
What topic feels most enjoyable to create content around?
How to Make a Content Plan If You're In the Sentinel Tribe
Begin with PEOPLE. Ask questions like,
What questions are my audience members asking?
What do my audience members want to hear from me?
What are other people posting about right now that I have an opinion on?
What does my audience need?
One caveat here for the Sentinel Tribe. It's okay to be asking yourself what content your audience wants to get from you if, and only if, you've first asked yourself what kind of content YOU want to create. YOU matter more than your ideal client avatar. Read more about this concept here.
How to Make a Content Plan If You're In the Explorer Tribe
Begin with RIGHT NOW. Ask questions like,
What's happening right now, today, that I can share about?
What do I genuinely want to share today?
What might I discover today that I can then share with my audience?
---
Now, go have fun creating some content! Your audience will feel that feel-good energy you're putting into your content when you approach it in a way that actually feels good to you.
How will you move forward with your content plan now that you've read this info? Tell me about it in the comments.
---
Not sure if you should create a podcast, a blog, or just focus on social media content? The answer, PLUS SO MUCH MORE is in your Marketing Personality Type® Full Report. Grab yours here.