At this point, you've decided to create an online community because it fits with your personality type. Perfect.
But you're not really sure where to start.
How do you create a community that benefits its members and your business at the same time?
In this article, I'm going to show you the five necessary tenants you'll need to create an online community and have it thrive.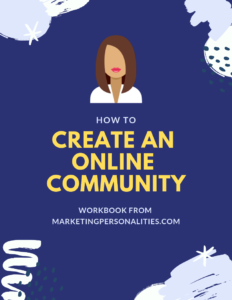 Download this helpful workbook that will guide you through these five tenants as you read and answer its questions.
Then I'll show you how your community fits into your marketing strategy so it benefits your business AND how to grow your community for maximum impact in our upcoming webinar – How Community Fits Into Your Marketing Strategy – happening Tuesday, December 18th, 2018 at 3pm EST. As long as you're registered, you'll receive the replay link.
*This post may contain affiliate/referral links. It is a way for this site to earn advertising fees by advertising or linking to certain products and/or services.
So first, your community needs these 5 things…
According to Seth Godin in his New York Times, BusinessWeek, and Wall Street Journal Bestseller, Tribes*:
Your community needs a Leader.

That's you. For any community to form, it needs a leader to curate its members, bringing them together for a distinct purpose. You will need to take on that leadership role for your community to take shape.

If "leadership" feels out of your comfort zone right now, I suggest you tap into these resources to develop that leadership muscle inside of you:

Tribes by Seth Godin*
"Tribes will make you think—really think—about the opportunities to mobilize an audience that are already at your fingertips. It's not easy, but it's easier than you think."
Source

Dare to Lead by Brene Brown*
"Now, based on new research conducted with leaders, change makers, and culture shifters, [Brene]'s showing us how to put those ideas into practice so we can step up and lead."
Source

Leaders Eat Last by Simon Sinek*
"Too many workplaces are driven by cynicism, paranoia, and self-interest. But the best ones foster trust and cooperation because their leaders build what Sinek calls a 'Circle of Safety' that separates the security inside the team from the challenges outside."
Source

Ashley Cox, Leadership Coach at SproutHR.co
Ashley Cox, PHR, SHRM-CP, is the Leadership Development Expert and Founder of SproutHR, where she helps female founders foster the skills you need to lead happy and high-functioning teams that consistently produce great results. She has over 12 years of leadership and human resources experience in both the corporate and small business worlds, was chosen as a 40 Under 40 recipient in 2017, and is passionate about helping women become more confident, effective and impactful leaders.

Your community needs a Vision for the Future.

As Seth Godin says in Tribes*, "The secret of leadership is simple: Do what you believe in. Paint a picture of the future. Go there. People will follow."

So, where are you going? Why does this community need to exist in the first place?
Make sure your answer to that question is NOT about money. Money only motivates you so far.

What's the "big idea" here? What are you rallying your troops for?

Remember, there's a workbook right here where you can answer these questions in. Totally free, I don't even ask for your email address.

If you're struggling to identify WHY your community will exist, I highly recommend reading this article, Community Building 101: The Basics, written by Amol Sarva, published by The Huffington Post. In it, Amol offers a list of reasons your community might exist. Which one resonates most with you and the work you're doing?

Once you do identify your vision of the future, be sure to illustrate it through stories, as opposed to theoretical logistics. Really paint the picture for your members so they can see themselves within that future world.
Your community needs a Set of Values.

As you're leading your members toward the vision you've set before them, you and your members will need to know their boundaries on how to get there. To set boundaries, define what you and your community value.

Without values, and therefore, without boundaries, you might reach your future vision in a way that's out of alignment with how you wanted to do business, achieve goals, and leave a legacy. This could severely stain the impact your community ultimately has on the world.

To define your community's values, I encourage you to work through the list of common values included in the workbook. Choose 3-5 words that get to the core of how you'd like to achieve the vision you've set. Start by highlighting all the words that resonate strongly with you. Then work through that list, throwing out any words that don't seem to truly convey what you're doing and why your community exists until you get the list down to 3-5 words.

Then, put these words into play. Be sure your community members know the community's values, uphold them yourself, and praise members who uphold them too.
Your community needs a Way to Connect.

This one seems pretty obvious, but take a close look. As you're starting your community, make sure your community is gathering in a place that first, feels safe for you, and second, will feel safe for them.

Consider the best possible setting for your members to join together. Is it online or offline? In a large group or small group? On a public forum or a private one? Within a social media platform like Facebook or outside of one?

Remember to choose the setting based on your preferences first. This might seem "selfish" at first glance, but remember, if you're not comfortable within your community, your members won't be either and then, ultimately, you won't have a community.
Your community needs an Activity to Participate In.

It's one thing to be a member of a group. It's a completely different thing to be an ACTIVE member of a group. Right? Think about the Facebook groups you're a part of that you chime in and engage in regularly and the ones you've joined but never say a word in. Big difference.

For a community to be healthy and progressing toward that future vision, action needs to take place.

So, answer this – How does a potential member first become a member of your community? What do they have to do to earn a spot within your circle?

And then what does this member have to do to be an ideal, active member? What are the actions the member needs to take?

And finally, perhaps the most important question of all – what do YOU need to do, as the Leader, to catalyze the member into taking those specific actions?
Now that you've gotten a start on building your community, it's now time to understand how your community fits into your marketing strategy.
Remember what Seth Godin says in Tribes*,
Marketing used to be about advertising, and advertising is expensive. Today, marketing is about engaging with the tribe and delivering products and services with stories that spread.
And BONUS, I'll also be sharing with you how to GROW your community for maximum impact. This bonus info might surprise you!
JOIN THE TRAINING NOW RIGHT HERE
SAVE THIS POST ON PINTEREST