In this episode of Marketing Personalities, Brit Kolo interviews Lauren Caselli, the CEO of Lauren Caselli Events. Lauren is an ENFJ / ENFP who runs a full-service corporate event planning company, working with SaaS and tech companies to host User Conferences. Listen in to hear how Lauren is using her natural ENFP hosting skills to not only help her clients, but also strengthen her own network.
Listen to this Marketing Personalities Episode:
Podcast: Play in new window | Download
Subscribe: Apple Podcasts | Spotify | Stitcher | RSS
Listen on iTunes
Listen on Spotify
Listen on Stitcher
Watch the Marketing Personalities Podcast on YouTube:
Links Mentioned:
*Affiliate disclaimer: There are affiliate links within this blog post, marked with an asterisk. When you click on an affiliate link and purchase a product through it, Marketing Personalities will be paid an affiliate commission.
Episode 97 with Chris Emmer – The ENFP Marketing Personality Type
Episode 127 with Tasha Booth – Hosting and Mentoring Clients with ENFP Tasha Booth
Never Split the Difference by Chris Voss*
Lauren's Website – laurencaselli.com 
Lauren on Instagram – instagram.com/lcasellievents

Hosting Events and Establishing a Strong Professional Network Episode Summary:
Welcome back to another episode of the Marketing Personalities Podcast! I'm Brit Kolo and I'm here today with Lauren Caselli, who is the CEO of the Lauren Caselli Events.
Lauren and I are here today to discuss her event business, how she plans and manages such massive events for her clients, and how she's using a super cool hosting technique to create and foster great relationships.
But before we dig into that, you've got to get to know this woman.
Lauren's Entrepreneurial Life Right Now
Lauren has been in business for herself since 2013 and started corporate event planning in 2014. She now works primarily with SaaS and tech companies to plan their User Events and Conferences. These are events where larger startups and established tech companies invite their raving fans to learn more about their tech solution, tap into inspirational content, and see a glimpse of the future for the company.
Lauren had been in an event planning role in her corporate job prior to freelancing, so when her friend connected her with someone interested in hosting a retreat for 100 women, Lauren jumped on the opportunity.
From there, Lauren's first tech company client found her through a Google Search (CRAZY, RIGHT?!) and from there, Lauren provided a great service to the client and was then connected with a similar company also in need of her services.
Through intentional relationship building, networking, and asking for referrals, Lauren has built her sustainable company.

Lauren grew up in an Italian household that was always hosting holiday meals, birthdays, graduation parties and so she picked up on a lot of her natural hospitality skills from that upbringing.
And as an ENFP personality type, hosting and gathering people together comes naturally to Lauren.
We've spoken about the ENFP personality type in episode 97 with Chris Emmer and 127 with Tasha Booth if you'd like to listen in on this type more, from different perspectives.
Now, ENFPs aren't always the ones to be planning the event they're hosting so I was curious how Lauren managed all the planning and strategy when the hosting is really what comes most natural to her.
She reflected that there are always two roles that must be filled at every event:
The Logistical Executor, in charge of the logistics, timing, preparing, execution
The Host, in charge of welcoming, checking everyone in, making sure they're comfortable
Lauren's company now takes the role of the Logistical Executor, while she preps and trains the hosting tech company to be great hosts to their attendees. Who better to train someone to host well than an ENFP?! Makes sense!
So I then I was curious about how Lauren sets up her team so she can stay in her power zone of hosting and mentoring, while others handle the planning details. She reflected that she did manage all the details herself for a while, but that was a stretch for her personality. Now, she still drives the strategy and big pieces of the planning process, but she's surrounded herself with a team of "extreme questioners" who make sure she hasn't missed anything crucial. This ensures a high-quality end product, or in her case, an awesome event.
Let's talk about negotiation.
I was curious about how Lauren handles negotiation with her client contracts and even with all the vendors she has to work with. With such large events and large clients, I assumed there must be some pretty major negotiation involved and I wondered how Lauren handles that.
She said that negotiation has been something she's had to learn and then hone through practice over the years. She highly recommended the book, Never Split the Difference* written by Chris Voss, a book specifically about negotiation techniques.
And then Lauren completely rocked my world by saying she approaches negotiations trying to get a NO! Because until you get a NO from whoever you're asking, you don't know what's possible. You don't know how much you can charge or get out of the agreement. So she aims for NO and then backs off from there, ensuring the best deal.
Lauren's Brilliant Dinner Events
I first met Lauren when she delivered a Guest Expert Workshop for my mastermind group and in that session, she outlined something she does at most conferences she attends to create new relationships and build a stronger network. And let me tell you – this idea blew me away!
You have to listen in to how Lauren hosts a special dinner at the conferences she attends and how it's helped her build her business. ENFPs – you will NOT want to miss this strategy!!
Connect with Lauren
At laurencaselli.com and on Instagram @lcasellievents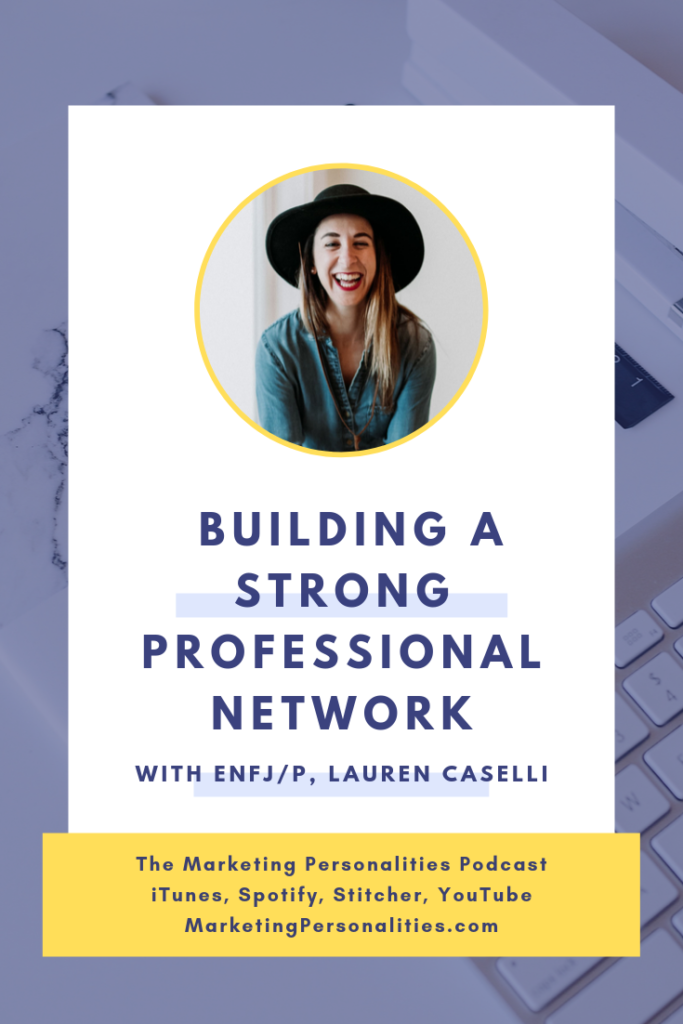 Podcast: Play in new window | Download
Subscribe: Apple Podcasts | Spotify | Stitcher | RSS