In this episode of Marketing Personalities, Brit Kolo interviews Tasha Booth, who is the Founder of the Launch Guild! They discuss how Tasha is using her ENFP Marketing Personality Type to host and mentor her agency clients and her coaching clients in a feel-good and effective way.
Listen to this Marketing Personalities Episode:
Podcast: Play in new window | Download
Subscribe: Apple Podcasts | Spotify | Stitcher | RSS
Listen on iTunes
Listen on Spotify
Listen on Stitcher
Watch the Marketing Personalities Podcast on YouTube:
Links Mentioned:
Tasha's Built to Profit Course
Tasha's Make Your First $1K as a VA WEBINAR
How She Did That Facebook Group for VAs and OBMs
The How She Did That Podcast, hosted by Tasha Booth
The ENFP Marketing Personality Type with Chris Emmer
Hosting and Mentoring Your Clients Episode Summary:
Welcome back to another episode of the Marketing Personalities Podcast! I'm Brit Kolo and I'm here today with Tasha Booth, who is the Founder of the Launch Guild!
Tasha and I are here today to discuss community-hosting and mentoring as an ENFP, which is Tasha's personality type.
But before we dig into that, you've got to get to know this woman.
Tasha Booth's Entrepreneurial Life Right Now
Tasha is the Founder of The Launch Guild. There are two main arms to The Launch Guild.
First, Tasha and her team of 15 (FIFTEEN!!!) professionals work with their clients, who are primarily Coaches and Course Creators to manage their online businesses for them. These clients are typically female business owners, bringing in 6 to 7 figures a year and have a viable, profitable business model but now need to scale without putting more of their own hard work in. That's where Tasha's team comes in!
The other arm of Tasha's company is one where Tasha is the Coach to other Virtual Assistants (VA) and Online Business Managers (OBM), teaching them how to structure their businesses so they can make the most of their time, energy, and resources.
At the time this episode goes live (September 26, 2019), Tasha is right in the middle of launching her new signature course, instructing brand new VAs how to build their businesses aimed for PROFIT.
Interested in learning more about Tasha's course? Click here!
The Launch Guild's main headline on its homepage is…
"Our zone of genius is keeping you in yours."
That's freaking brilliant. Kudos to whoever wrote that copy, seriously genius.
How the Launch Guild Got Started
In the episode, Tasha outlines how she went from being a full-time Fitness Director at her local YMCA to becoming a part-time and then a full-time Virtual Assistant within eight months. Once she met her own capacity of clients, she then decided to build her company into an agency model, which has led her to leading that team of 15 we were talking about earlier. Her team now is STOCKED with skilled professionals to manage every facet of an online business. As an ENFP, Tasha reflects that it was an easy decision for her to go the agency route because she loves have a team around her to bounce ideas off of and share the work with.

Tasha is an ENFP
As an ENFP, Tasha is super good and natural at hosting and mentoring people. Taking that matriarchal role, making people feel welcome, seen, and still moving forward. We see this come through in Tasha's marketing strategy as she hosts a free online community of other VA's and how she boosted her agency's success in 2018 with her 52 Coffee Chats in 52 Weeks challenge! Listen in to learn more about how she's done these two things in a unique, very ENFP way.
One of my favorite parts of the episode was when Tasha explained how she's using personalized video to engage with her agency clients and her coaching clients. Being that she's an ENFP who doesn't shy away from the camera, she's using tools like Loom and Bonjoro to send short, personalized videos to her customers, which takes her customer service and client relationships to a whole other level. This is such a good move for any ENFP, along with any ENTJ, ENTP, ENFJ, and ESFJ.
Connect with Tasha Booth
Go to The Launch Guilds Website Here
Go find Tasha if you need to get back into your genius zone and I'll catch you back here next week on the Marketing personalities podcast.
Interested in Hearing From Other ENFPs?
You'll enjoy this past episode with Chris Emmer, an ENFP Founder of Sweaty Wisdom and Biz Baby Sitters!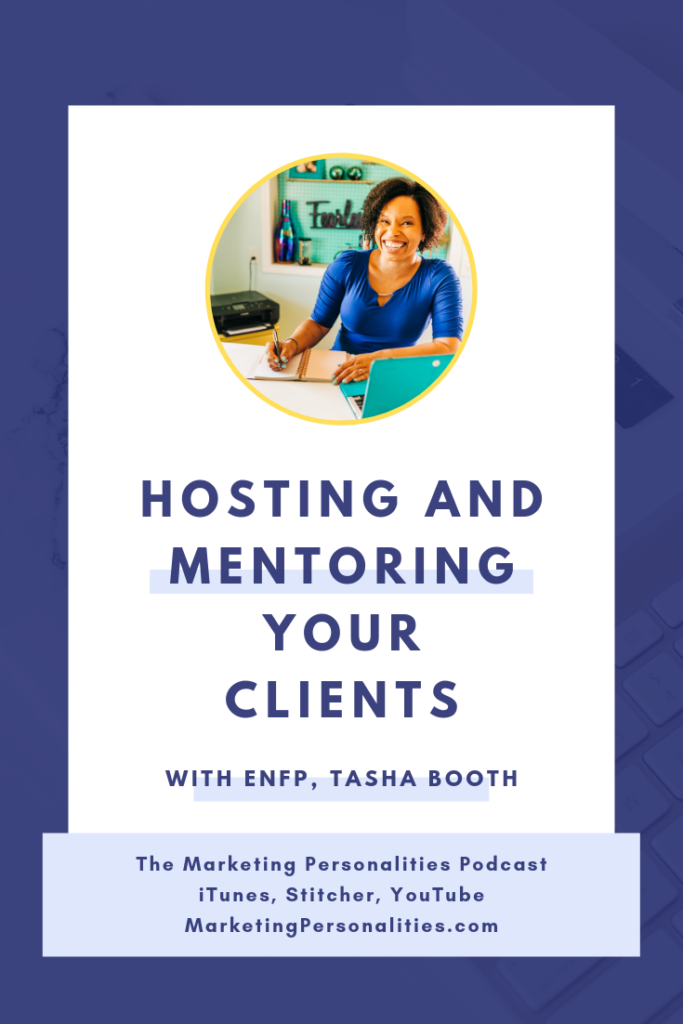 Podcast: Play in new window | Download
Subscribe: Apple Podcasts | Spotify | Stitcher | RSS