In this episode of Marketing Personalities, Brit Kolo interviews Deirdre Andrews, who is the founder of DefineMarketing.ca and Google Ads expert. In this discussion, Brit and Deirdre discuss paid traffic through Google Ads – what you need to know, who this strategy is best for, and how to get started with Google Ads.
Listen to this Marketing Personalities Episode:
Podcast: Play in new window | Download
Subscribe: Apple Podcasts | Spotify | Stitcher | RSS
Listen on iTunes
Listen on Spotify
Listen on Stitcher
Watch the Marketing Personalities Podcast on YouTube:
Links Mentioned:
Deirdre's Website, DefineMarketing.ca
Deirdre on Facebook
Google Ads Cheat Sheet
1-hour Google Ads Workshop for just $9
Find your Marketing Personality Type here!
Google Ads Episode Summary:
Welcome to this episode of the Marketing Personalities Podcast. I'm Brit Kolo and I'm here today with Deirdre Andrews, the founder of Define Marketing.
About Deirdre Andrews
Deirdre is a Google Ads expert, who is here to teach us how to use Google Ads in our own businesses. She began this work within a large marketing agency, working with huge brands and small businesses.
She then began testing her Google Ads skills within her brother's Dance Studio business. With all this experience, she has so much to share with us!
I recommend a marketing strategy that involves Google Ads to the following types:
For anyone listening or reading that is not one of those four types, you can still utilize Google Ads in your marketing strategy. I recommend treading lightly, though, and consider having one of these types implement Google Ads for you.
How does Deirdre approach Google Ads, which is different from the other Google Ad education out there?
Deirdre teaches you how to not only set up an ad here and there, but actually work Google Ads into your entire marketing strategy so it gets you clicks AND SALES.
What do we need to know about Google Ads as small business owners?
Google Ad traffic is already somewhat warm because they've searched for the keyword you're showing up for, assuming you're only targeting keywords that directly apply to what you have to sell.
How do we know what keywords to use in our Google Ads?
Deirdre recommends using the Google Keywords Tool to find ideas and get focused on what keywords will work for you.
She also recommends thinking about what you naturally type into a search bar!
Listen in to the episode to hear more about:
What keywords to use in your Google ads
Why Google ads are best for these types to implement: INTJ, INTP, ISTJ, ISTP
The mindset you MUST have when you use Google ads so they can actually work
How to increase your sales conversions with Google ads
Connect with Deidre Andrews
Deirdre's Website, DefineMarketing.ca
Deirdre on Facebook
Google Ads Cheat Sheet
1-hour Google Ads Workshop for just $9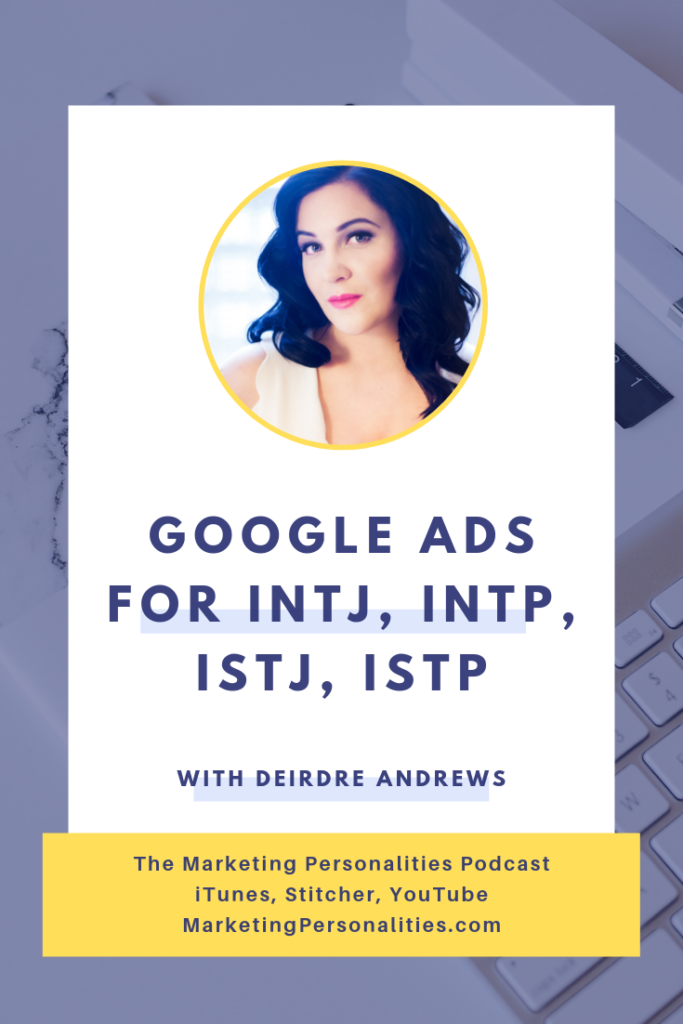 Podcast: Play in new window | Download
Subscribe: Apple Podcasts | Spotify | Stitcher | RSS