In this episode of Marketing Personalities, Brit Kolo interviews Joey Vitale, who is the Founder of Indie Law, a trademark law firm in Chicago, IL. Listen to hear how Joey is giving small business owners their confidence back through trademark law and combating the common struggles of depression, anxiety, and self-doubt as an INFJ.
Listen to this Marketing Personalities Episode:
Podcast: Play in new window | Download
Subscribe: Apple Podcasts | Spotify | Stitcher | RSS
Listen on iTunes
Listen on Spotify
Listen on Stitcher
Watch the Marketing Personalities Podcast on YouTube:
Links Mentioned:
Joey on Instagram at @joeycvitale
Trademark Law with INFJ Joey Vitale Episode Summary:
Welcome back to another episode of the Marketing Personalities Podcast! I'm Brit Kolo and I'm here today with Joey Vitale, who is the Founder of Indie Law!
Joey and I are here today to discuss how he's marketing his law firm as an INFJ. What is an INFJ doing practicing law? I know, we'll get there.
But before we dig into that, you've got to get to know this woman.
Joey's Entrepreneurial Life Right Now
Joey is the Founder of Indie Law, a law firm that specializes in trademark law and other legal considerations for small business owners.
I believe Joey is just the right person for this type of work, as I've seen how he approaches trademarks and other small business legal topics from a proactive stance, making sure his clients and followers take action and protect their companies before trouble arises. This proactive nature is baked into Joey's personality type as an INFJ, as he reflects this to us in his interview.
Joey's an INFJ
As an INFJ, we know that creating and publishing long-form content is part of Joey's best marketing strategy because what does NOT feel good to him is to go straight into a sales conversation without educating his prospect and making sure they know what they're getting themselves into. Indoctrination is KEY for INFJs.
So, long-form content and a law firm. This would usually make people be like, whaaat? That's never going to work! But oh contraire, people. Joey's doing it.
And he's doing it without being predatory or divisive – common tactics in the legal field.
We talk more about this in the episode – how Joey continues to aim to find the balance between educating people on risks without being too confrontational, simply because divisiveness doesn't sit well with him. And we know that regardless of what works for other people, if it doesn't feel good for us, it's not going to work to attract the right people to our businesses.
Bravo, Joey for sticking to your guns and doing what feels good.
We also chatted about this topic on Joey's Facebook Live show a while back. Click to hear more on this.
Joey's Vision for Indie Law
Joey aims to help others Be and Feel Legit as a Business Owner. And beyond just tackling trademark law for these business owners, Joey is also weaving in efforts to combat depression, anxiety and self doubt – common struggles for the small business owner in today's world.
He's positioned to help us all with our trademarks AND give us confidence to KEEP GOING. How rad is that?!
Connect with Joey
Listeners, go find Joey and get your sh*t trademarked and I'll catch you back here next week on the marketing Personalities podcast.
Interested in Hearing From Other INFJs?
You'll enjoy this past episode with Rachel East, an INFJ Co-Founder of Clarity on Fire!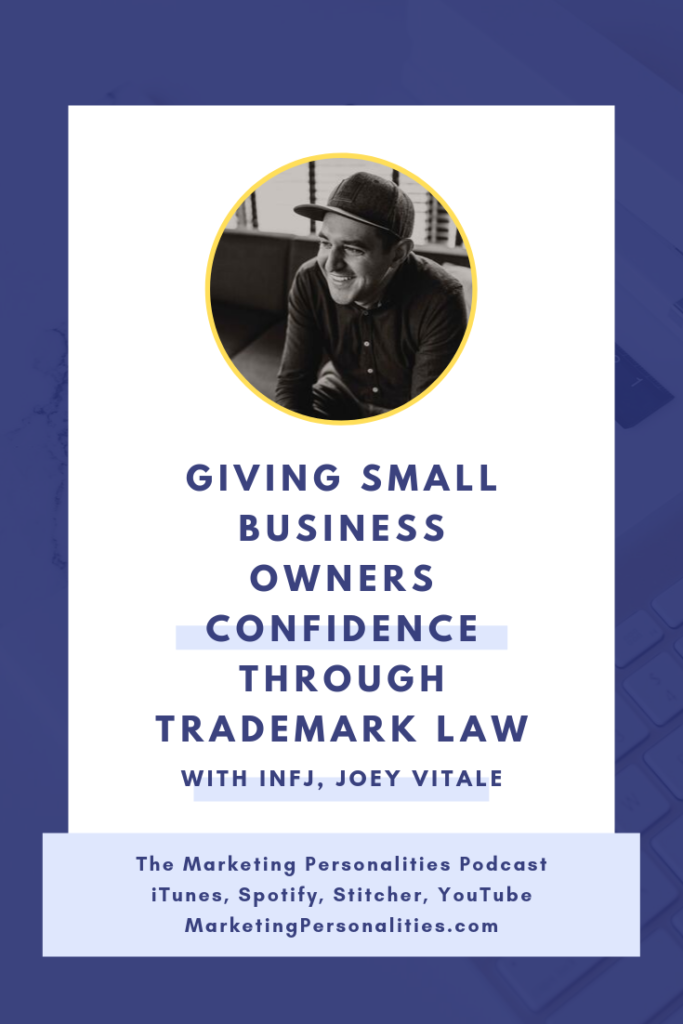 Podcast: Play in new window | Download
Subscribe: Apple Podcasts | Spotify | Stitcher | RSS