In this episode of Marketing Personalities, Brit Kolo interviews Braden Drake, who is Your Legal Gay Best Friend and Founder of Braden Drake Law. Listen in to hear Brit and Braden's discussion about pushing boundaries in your industry and taking a stance for what you believe in as an ENTP.
Listen to this Marketing Personalities Episode:
Podcast: Play in new window | Download
Subscribe: Apple Podcasts | Spotify | Stitcher | RSS
Listen on iTunes
Listen on Spotify
Listen on Stitcher
Watch the Marketing Personalities Podcast on YouTube:
Links Mentioned:
Braden's Online Course and Membership Site
Braden's Law Firm
Braden on Instagram

Challenging the Status Quo Episode Summary:
Welcome back to another episode of the Marketing Personalities Podcast! I'm Brit Kolo and I'm here today with Braden Drake, who is your legal gay best friend and Founder of Braden Drake Law!
Braden and I are here today to discuss how he's doing business and developing a marketing strategy as an ENTP. This is a personality type we haven't heard from on the podcast yet so this is going to be GOOD!
Braden's Entrepreneurial Life Right Now
As most ENTP's will tell you, they have a lot going on all at once. This is definitely true for Braden Drake and it's working for him!
Braden has two arms to his entrepreneurial journey right now. First, he has his own law firm, Braden Drake Law, that offers one-on-one legal and tax services for Creative Entrepreneurs. This firm is based in San Diego, CA, so he works with a lot of California-based businesses, but also has clients across the country.
The other arm of his ventures can be found at YourLegalGBF.com, where his offers online courses and a super-accessible online membership for online business owners needing DIY resources and light hand-holding when it comes to their legal and tax questions and issues.
Why Tax Law, Braden?
Braden is such a vibrant guy, as you'll find in his interview. So I couldn't help but ask, why study tax law??? It seems like it would be pretty boring to this creative, no-rules ENTP over here.
Braden reflected that he went to law school because he found that he loved public speaking, loved talking with people, and never shied away from a good debate, so politics always interested him. Once in law school, he excelled at the code part of law, more so than case law. That led him to Tax Law and helping small business owners handle their taxes and tax law-related questions and issues.
In short, he said that he likes breaking down the "hard stuff" and helping people see that it's not that hard.
Thank GOODNESS we have people like you in this world, Braden!

Braden is an ENTP
Braden is a super eclectic guy with his hands in everything and ideas endlessly coming out of him. I wondered if this is something that's always been true for him and he reflected that YES, he naturally wants to do it all and be it all. He doesn't settle for "either, or," but rather challenges everyone with aiming for "both, and."
I ask because this is a common character trait of ENTPs. This ability to do both/and, be both/and, embrace it all, basically. And since we haven't had an ENTP on the show before, I want to give the listeners a solid peek into the preferences of an ENTP.
ENTPs are part of the Analyst Tribe, which indicates that they're extremely logical, making decisions from logic and what makes sense to them. They must start with strategy and love the deduction process of taking a big goal or a big scary problem and breaking it down into bite-sized, actionable steps. Specifically as an ENTP, this type is known as the Debater. They are open-minded enough to see both sides of any story and then be able to logically break down all parts of it and then argue one or both sides in an unbiased, logical, and extremely persuasive way.
This hit the nail on the head for Braden as he reflected that playing Devil's Advocate got him through law school and continues to be how he approaches problems and regular conversation today. This willingness to confront and push the boundaries is what feels good to Braden and, no surprise to us, is what differentiates him from the crowd.
Braden's Vision for His Law Firm and Personal Brand
Braden will be launching his new signature course in November, so stay tuned for that. And he shared with us that his main focus for the next year is to bring an associate into his law firm so he, Braden, can pour his best energy into his online business offering courses, DIY resources, and his online membership for creative entrepreneurs.
Connect with Braden
On Instagram @bradenadamdrake
On His Website https://yourlegalgbf.com
Listeners, go find Braden and get your unsexy legal and accounting sorted out by someone who actually makes it fun and I'll catch you back here next week on the Marketing Personalities podcast.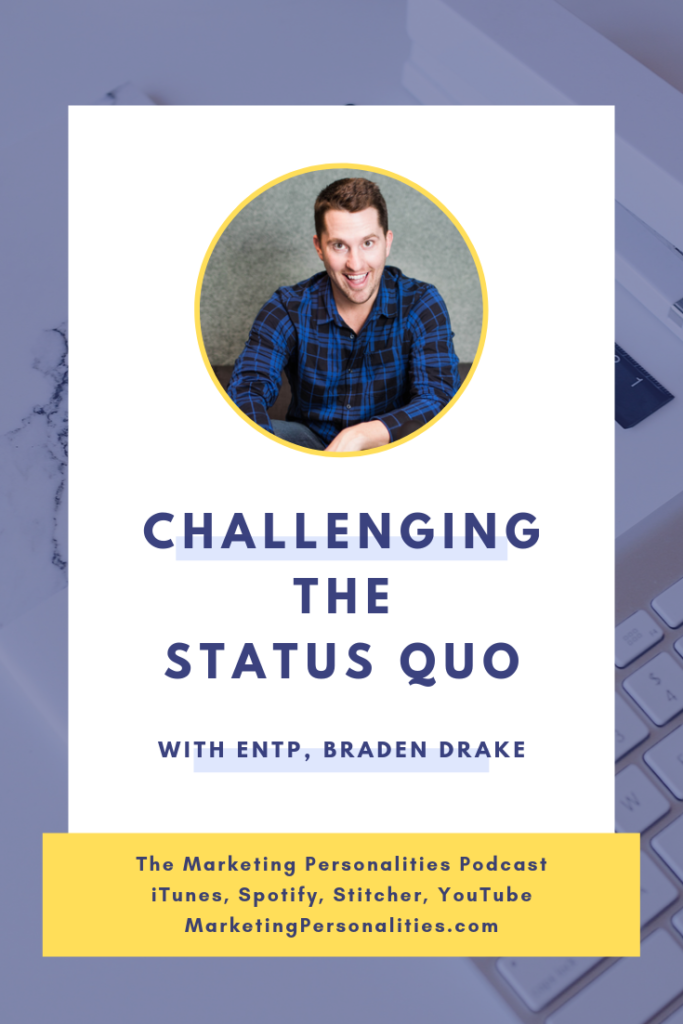 Podcast: Play in new window | Download
Subscribe: Apple Podcasts | Spotify | Stitcher | RSS