There are so many business podcasts and more being added to the podcast feeds every day.
How do you choose?
How you avoid wasting a bunch of time sampling them until you find the few that really resonate?
And the most important question—how do you know the business advice you're listening to is really suitable for you and your Marketing Personality Type®?
Because you've fallen down that rabbit hole before, haven't you? The one where you start listening to this podcast someone mentioned to you and it's really big on Facebook/Meta Ads. And OH MY GAWD if you're not using Facebook Ads, you're absolutely doomed to fail in business.
And you can't help but drink the Kool-Aid. I MUST NEED FACEBOOK ADS! THAT'S MY PROBLEM! I NEED TO GET FACEBOOK ADS RUNNING RIGHT NOW!!!
But… what if Facebook ad strategy is the farthest thing from what a feel-good marketing strategy looks like for you? What if chasing Facebook ad success takes you farther from attracting your best and brightest clients and customers?
All because you got sucked into a business podcast that just wasn't for you.
It happens all the time.
This post is designed to help you avoid that pitfall in the future.
Here are my best recommendations for business podcasts specifically for YOUR Marketing Personality Type®.
Each recommendation includes THREE Business Podcasts to tune into. Try them out! Let me know how they land for me by leaving a comment at the bottom.
NOTE: Excerpts are pulled directly from the podcast's description on Spotify or Apple at the time of publishing (January 2022).
ALSO NOTE: Marketing Personalities does NOT represent any person or any podcast on this list. The opinions and strategies expressed on these podcasts are of the podcast hosts, NOT of Marketing Personalities.
---
Business Podcast Recommendations for INTJ Marketing Personality Types®
Dan Kennedy's Magnetic Marketing Podcast
Dan Kennedy has been called the "Professor of Harsh Reality" because he's provocative, irreverent, sarcastic, and tells it like it is in a humorous, but chilling, serious fashion that cuts to the core of the issues in a way no other marketing 'guru' does.

The Product Boss Podcast with Jacqueline Snyder & Minna Khounlo-Sithep
A business podcast for product entrepreneurs. Featuring product businesses that start out of their living rooms from start-up to multi-million dollar businesses, episodes include Small Business owners, Female Founder episodes and BIPOC and Black voices, as well as workshop-style podcast episodes from co-hosts and product experts, Jacqueline Snyder and Minna Khounlo-Sithep.

The Not for Lazy Marketers Show with Emily Hirsh
What would it mean for your business if overnight… every $10 you spent on marketing, brought you $100, or if your next launch saw a 20% sales number increase from the last one? Those are just 2 incredible success stories that our clients at Hirsh Marketing have attributed to working with us.
Business Podcast Recommendations for INTP Marketing Personality Types®
StartUp
StartUp is a documentary series about entrepreneurial life. The show has been downloaded tens of millions of times since its launch in 2014.

Smart Passive Income
Weekly interviews, strategy, and advice for building your online business the smart way.

Invisibilia
Unseeable forces control human behavior and shape our ideas, beliefs, and assumptions. Invisibilia—Latin for invisible things—fuses narrative storytelling with science that will make you see your own life differently.
Business Podcast Recommendations for ENTJ Marketing Personality Types®
TED Business
Whatever your business conundrum, there's a TED Talk for that — whether you want to learn how to land that promotion, set smart goals, undo injustice at work, or unlock the next big innovation.

Mind Your Business
James Wedmore, a seven-figure online entrepreneur, believes success is created by mindset over strategy, magic over metrics, and attitude over action. In this podcast, James untangles the common misconception that hustle and hard work are all it takes to be successful.

The Marie Forleo Podcast
Named by Oprah as a thought leader for the next generation and one of Inc.'s 500 fastest growing companies, Marie Forleo's goal is to help you become the person you most want to be.
Business Podcast Recommendations for ENTP Marketing Personality Types®
BiggerPockets Business Podcast
Welcome to a real-world MBA, where entrepreneurs guide you through what it really takes to start, scale, and sell your own business.

Business Wars | Wondery
Netflix vs. HBO. Nike vs. Adidas. Business is war. Sometimes the prize is your wallet or your attention. Sometimes, it's just the fun of beating the other guy. The outcome of these battles shapes what we buy and how we live.

The School Of Greatness
The School of Greatness shares inspiring interviews from the most successful people on the planet—world-renowned leaders in business, entertainment, sports, science, health, and literature—to inspire YOU to unlock your inner greatness and live your best life.

Business Podcast Recommendations for INFJ Marketing Personality Types®
How I Built This
Guy Raz dives into the stories behind some of the world's best known companies. How I Built This weaves a narrative journey about innovators, entrepreneurs and idealists—and the movements they built.

The Purpose Show with Allie Casazza
… conversations about simplicity, minimalism, and lots of other good stuff that leads to a life of less for the sake of enjoying more.

Freedom Found Podcast
An audio community for freedom-driven entrepreneurs wanting to build and scale an impactful online business – allowing you to spend more time with your toes in the sand than your fingers on the keyboard.

Business Podcast Recommendations for INFP Marketing Personality Types®
Start Within w/Coach Colette
The Start Within Podcast seeks to disrupt the narrative about what it means to be strong in mind, body and spirit – particularly for people of color.

Cubicle to CEO with Ellen Yin
The Cubicle to CEO podcast brings you weekly interviews with the best and brightest in business who have paved their way to the top of the corporate and entrepreneurial worlds, as well as those new to the CEO game.

The Life Coach School
The Life Coach School Podcast is your go-to resource for learning, growing, and becoming certified as a life coach through the School.
Business Podcast Recommendations for ENFJ Marketing Personality Types®
She's Got Drive
The She's Got Drive podcast asks Black women, What empowers 'her'? How does she overcome obstacles, and what is the source of her success? if you want to have more DRIVE and success in your own life as well as tools, strategies, and confidence to change your life this podcast is for you.

Scale with Success
Kindergarten teacher turned 7-figure business owner—Caitlin Bacher, CEO & Founder of Scale with Success™—is on a mission to help course creators like you, grow your business in a way that's profitable and scalable, while also staying sane.

The Recurring Profit Podcast
Your Host, Haley Burkhead, is the founder and CEO of The Recurring Profit Program where she helps course creators scale to their first $1 Million with their course or membership site. Haley is your direct, "no b.s." kind of leader and she shares all of her sales and scaling secrets on The Recurring Profit Podcast.

Business Podcast Recommendations for ENFP Marketing Personality Types®
Radical Shift with Carla White
Featured by Entrepreneur Magazine, Radical Shift is for creative professionals, entrepreneurs, and thought leaders who want to tap into their natural ability to create wealth, make impact and enjoy life in ways you never thought possible.

Imprint with Natalie Walton
Imprint with Natalie Walton focuses on how to create a home and life you love. Featuring interviews and insights with inspiring creatives, entrepreneurs and experts from around the world. Imprint explores life lessons that can have a big impact on both our well-being and the world.

The Follow
The Follow is a multicultural podcast where we spotlight BIPOC creators, movement-makers, and thought leaders, and talk to them about their work, worldview, and how they use their platform.

Business Podcast Recommendations for ISTJ Marketing Personality Types®
Everyday MBA
Entrepreneur and business success techniques and tips that you don't learn in business school.

Do Weekly
A weekly challenge podcast for small business owners, by small business owners.

The Simple Business Show
The Simple Business Show, hosted by Nesha Woolery, teaches solopreneurs and service based business owners how to simplify their entire business, from their mindset and marketing to their systems and processes, so business doesn't seem so overwhelming anymore.
Business Podcast Recommendations for ISFJ Marketing Personality Types®
The Inspire Podcast
Each episode features a new guest who will share insights, stories and tips on how you can intentionally inspire others, both in work and in life. Our interviews skip the theory and provide you with practical advice to inspire others during every interaction.

The Veranda Entrepreneur
Interviews with creative women entrepreneurs who share their stories on a veranda.

The Lazy Genius
Being a person is hard, and The Lazy Genius Podcast is here to help you be a genius about the things that matter and lazy about the things that don't. From laundry to cooking chicken to making new friends, Kendra is here to welcome you into an easier way.
Business Podcast Recommendations for ESTJ Marketing Personality Types®
Rise and Grind
As a follow up to his book of the same name, Daymond John (star of ABC's Shark Tank, Founder & CEO of FUBU) conducts candid interviews featuring the likes of Gary Vaynerchuk, Wendy Williams, Tyler the Creator, Nely Galan, and more.

Impact Theory with Tom Bilyeu
Impact Theory is a business and mindset-focused interview show that will teach anyone aspiring to greatness the secrets to success.

Lead To Win
On Lead to Win join New York Times bestselling author Michael Hyatt and CEO Megan Hyatt Miller as they discover how current research combines with timeless wisdom for lasting success.
Business Podcast Recommendations for ESFJ Marketing Personality Types®
Proof to Product
Proof to Product takes you behind the scenes of growing a product-based business. Join us each week as our alumni, speakers and friends share their successes, struggles and how they've made difficult but important transitions in their business to continue growing.

The Goal Digger Podcast
Host Jenna Kutcher brings you the productivity tips, social media strategies, business hacks, and inspirational stories that help YOU design your dream career. Because work shouldn't feel like work.

The Black Girl Business Bar
The Black Girl Business Bar Podcast is for Black entrepreneurial women who crave practical information to implement in their businesses and careers.
Business Podcast Recommendations for ISTP Marketing Personality Types®
HBR IdeaCast
A weekly podcast featuring the leading thinkers in business and management.

Rework: A Podcast by Basecamp
A podcast by Basecamp about the better way to work and run your business.

Decoder
Verge editor-in-chief Nilay Patel talks to a diverse cast of innovators and policymakers at the frontiers of business and technology to reveal how they're navigating an ever-changing landscape, what keeps them up at night, and what it all means for our shared future.
Business Podcast Recommendations for ISFP Marketing Personality Types®
The Side Hustle Show
The Side Hustle Show is the podcast for part-time entrepreneurs who are looking for actionable tips and strategies on how to turn their side hustle dreams into reality.

The CHILLPRENEUR by Erin May Henry
The Chillpreneur Podcast is the home of the rebel entrepreneur, here we love to do things differently. Throw away your professionalism and hardcore bro business strategies, this show will teach you how to be successful online in a way that feels fun and chill.

On the Cusp of Something Beautiful
On the Cusp of Something Beautiful is a podcast dedicated towards building community and creating family around BIPOC creatives, aspiring creatives, and their allies, who are seeking to connect deeper with their artistic expression and authentic essence on a cosmic and spiritual level.
7-Figure Small
Brian Clark is a serial digital entrepreneur who's started several 7-figure businesses — and one 8-figure business that was recently acquired. Drawing upon his own 20-year evolution from solo to CEO (and back again), Brian provides compelling stories and actionable strategies for ambitious freelancers and creative entrepreneurs looking to live the "7-Figure Small" lifestyle.

The Pitch
Where real entrepreneurs pitch to real investors—for real money.

The Ed Mylett Show
The Ed Mylett Show showcases the greatest peak-performers across all industries in one place, sharing their journey, knowledge and thought leadership.
Business Podcast Recommendations for ESTP Marketing Personality Types®
Business Podcast Recommendations for ESFP Marketing Personality Types®
Accidental Creative
The Accidental Creative podcast explores how to stay prolific, brilliant and healthy in life and work as a creative pro.

Being Boss
Being Boss® is an exploration of not only what it means, but what it takes to be boss as a creative business owner, freelancer, or side-hustler.

The Black Creators Club
A weekly, high-energy show and media brand that promotes innovation by interviewing black creators and discussing their ideas, daily grind, and unique approaches on how they move our community and society forward.
Curious to see what Business Books I'd recommend for your Marketing Personality Type®?
Find your personalized recommendations in your Marketing Personality Type® Full Report!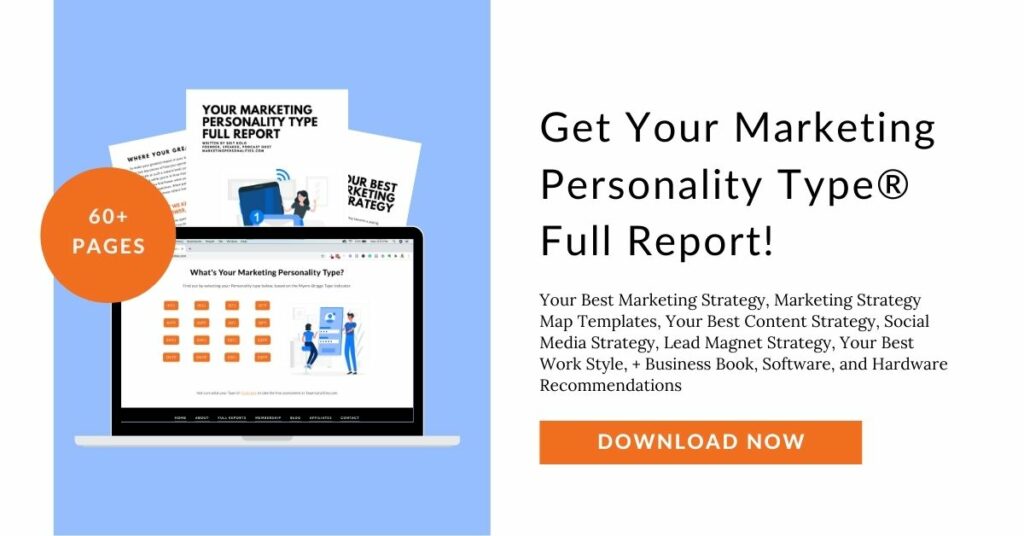 ---
Listen to the Marketing Personalities Podcast
Apple Podcasts | Spotify | YouTube | Stitcher