The other day, I was writing this Instagram post, which had me reflecting on a really great memory that came out of this current season of pandemic and it got me thinking – hey, it's almost time to do my monthly debrief exercise.
And THEN, I thought, hey it'd kinda be cool to share my debrief with my audience. Maybe it could inspire someone to take time to reflect on their own past month in a new, helpful way.
So I promised I'd do that in the IG post.
And finally, I realized… wait a second. I've never shared my Debrief Process with you! So I asked in the caption if you'd be down with me sharing this Process and framing it based on personality type.
Well…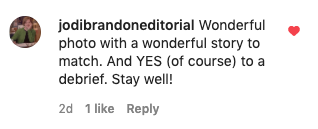 That's a big fat YES.
So here, in this blog post, I'll give you the full rundown of my own month – April 2020. I've included both business and life stuff here because this is what I do in my usual debrief. I find it nearly impossible to compartmentalize the two because listen, there's a lotta business and a lotta life going on over here every single moment. So, I blend.
And over here in this blog post, I show you the ins and outs of my Debrief Process and how to implement it in your own business and life, based on your personality type. Complete with a free template to download.
Cool? Cool.
*AFFILIATE NOTICE: There are affiliate links within this blog post, marked with an asterisk ( * ). Should you click on an affiliate link and purchase something, Marketing Personalities may receive a commission for referring that sale.
So, April.
WHAT WENT DOWN IN APRIL 2020?
Moved from podcasting to blogging focus
Photoshoot with Mom
Implemented a Habit Tracker
Updated and renovated Income Property #1
Attracted perfect new renters to Income Property #1
Rescheduled birthday trip in May to September
Painted home office
Wallpapered home office
Upgraded desk setup with new monitor and sit-to-stand desk converter
Trout season opened up, got out for my own "opening day" and caught my limit
Found a new level of capacity for work
Read great books – all fiction
Published a few blog posts
Cleaned up Pinterest strategy and watched that grow
Upgraded Spring/Summer wardrobe (mostly with new fave brand, Daily Ritual* by Amazon)
Watched the Joanna Gaines at-home cooking special and new Magnolia Network sneak peek
Remained under self-quarantine
And a bunch of other huge things that are personal and just for me to know about 🙃
MY FAVORITE DAY IN APRIL
I write in detail about this day in my real debrief. It becomes a story in and of itself, which I won't share here. The highlights:
Easter Day. Included outdoor church, held in an amphitheater, fishing for hours in my kayak, catching my limit, and then going to my parents' house for Easter dinner. Topped off with homemade chocolate cake. Total winner of a day.
MY INTENTIONS GOING INTO APRIL 2020
Implement daily Habit Tracker, intending to…

Prayer Journal
Fruit for breakfast
Write 25min
Read 25min
Move 25min

Renovate Income Property #1
Attract new renters
Find a new writing / publishing cadence for MP
Develop a structured content strategy moving forward for MP
Activate Assistant to focus solely on Pinterest strategy
Continue limits on caffeine and alcohol (a habit I had held strong to throughout March)
And other stuff.
WHAT WENT WELL?
I surprisingly enjoyed having a Habit Tracker. It really did keep me accountable in a fun, colorful way. It didn't feel like "too much" to track or accomplish.
Teamwork!!! All the way around.

Mom with photoshoot
Hired a cleaner to clean Income Property
Family on Towanda property
Mom and Husband on home office reno
Other teams I'm on in business
Biz friends when stuck with content strategy
Assistant with Pinterest strategy

Surrendering the timeline. A newfound level of surrender and peace around the Truth that everything unfolds in perfect timing. It's all kismet. It's all fate. Everything.
Following intuition at end of March to go to Barnes & Noble right before stay-at-home orders were issued so I could get two great books, a latte, and a cookie.
Having both audiobooks and physical books to choose from.
Choosing audiobooks over podcasts when working on big projects.
Intentionally setting and upholding boundaries around how much I can and want to do/produce/accomplish in a set period of time.

Saying NO to new, surprise projects when my plate is already full and what's on my plate is priority to me.

Feel-good office supplies

Fresh pack of legal pads, pastel colors

Creating a "so me" office space that I invest so much of my time in already – sharing before/afters next week on Instagram.
Found a great routine for one big project.
Honoring my feel-good style. In office, in new wardrobe. And it's changing and that's fine and cool and exciting.
My hair is finally long enough for a ballet bun that stays in place all day and feels very ME. (Hence, the featured image of this post.)
And other stuff.
WHAT DIDN'T GO WELL?
Didn't find a writing / publishing cadence.
Didn't develop a structured content strategy to move forward with.
Still working on a routine for Project H. (I know, I'm so sneaky with my code names. You'll live.)
Total lack of a routine / cadence for MP work.
Not enough breaks.

To breathe, stretch, go for walks.

Still paying for recurring subscriptions I don't use.
Pennsylvania weather. 😂
WHAT WILL I DO DIFFERENTLY MOVING FORWARD?
Now that my daily cadences are working, I'll shift my focus to develop weekly cadences for writing / publishing and other projects that don't need my daily attention.
Reintroduce the Pomodoro Technique into my daily flow, starting at 8am when work begins.
Block half a day for MP content strategy mapping.
WHAT ARE MY INTENTIONS GOING INTO MAY?
Build and install office shelves
Build outdoor couch
Continue with Habit Tracker to uphold these daily intentions:

Prayer Journal
Bible Reading
Fruit for breakfast
Move 25min
Read 25min
Write on [these days]
Take supplements
Begin Pomodoro Timer at 8am

Support local greenhouse, purchase lots of flowers, plant and care for new flowers
Learn how to grow eggplants and start an eggplant garden. (I'm obsessed with eggplant right now!)
Donate winter clothes that don't bring my joy anymore
Develop a new work cadence for MP and other projects
Complete the May content plan and then reassess last week of May
Celebrate 30th birthday in a way that feels good to me
I WILL SAY YES TO…
Family walks
Time outside
Play!
Celebration
I WILL SAY NO TO…
Work that can be done by someone else
Going way above and beyond for ego's sake
FURTHER REFLECTION
It's funny to me that this was the month it dawned on me to share this Debrief Process. Because in the past, so many of my monthly debriefs are more focused on the business than on life.
In other Debriefs, you'll find tables and graphs and intentions that were super focused on business numbers and data and hitting specific goals.
This month was not like that for me. A lot of life happened this past month. And I find it beautiful that that's what I get to share with you this time around.
Your Turn!
Learn how to debrief your past month, set intentions for the next month, and do it in a way that honors your personality type.